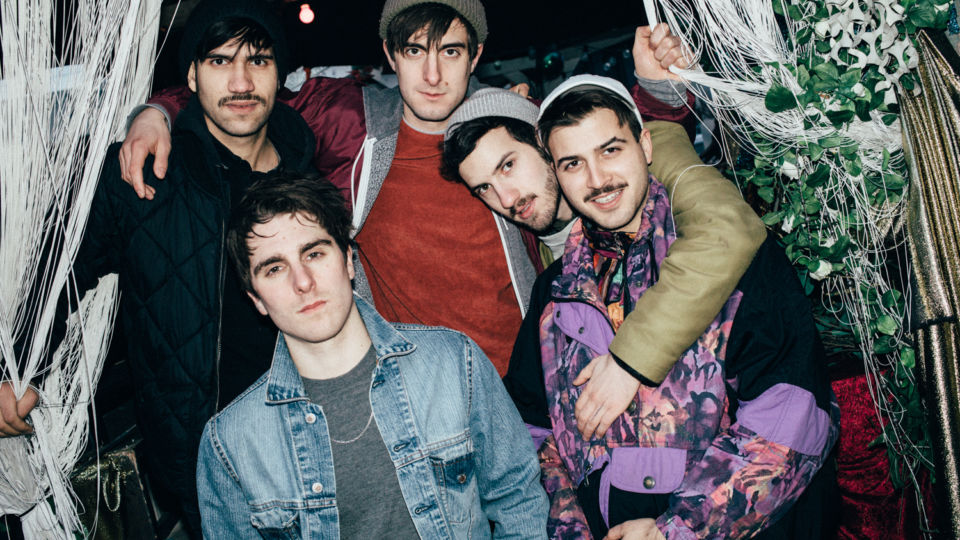 On Tour
DE
Wenn Menschen zusammenkommen und sich verschwören, gemeinsam Pläne schmieden und sich nicht zu fein sind sie auch wieder umzuschmeißen, über Jahre hinweg alle verfügbare Energie und Kreativität in die Verwirklichung der gemeinsamen Sache stecken und ihr Tempo dabei immer selbst bestimmen, dann können wirklich wundervolle Dinge entstehen. So passiert bei den Leoniden aus Kiel. 
Am 24. Februar 2017 erscheint - zum exakt richtigen Zeitpunkt in der Bandgeschichte – ihr erstes Album, das, wie könnte es auch anders sein, selbstbetitelt daherkommt. "Leoniden" erscheint über das bandeigene Label "Two Peace Signs Records". Ihr Label haben Leoniden nach ihrer ganz eigenen Handgeste benannt, den "two peace signs". Zeigefinger und Mittelfinger ergeben das erste, Ringfinger und der kleine Finger das zweite "Peace Sign" - siehe Album Cover. Die vier in die Luft gereckten Finger sind ihr Erkennungszeichen, ihre Parole. Versteht sich von selbst, dass es Mitglieder mit Two Peace Signs-Tattoo in den Reihen der Band gibt.
Ihr Album ist eine über die Maßen euphorische Angelegenheit geworden, verbindet spielerisch Genres, die meilenweit voneinander entfernt schienen, ist eingängig und komplex zugleich, das Ergebnis von DIY-Spirit und der Kraft des Kollektivs. "Leoniden" klingt so wie sich eine gute Party anfühlt, oder, einfacher gesagt: schlichtweg atemberaubend.
Das Album startet mit dem vorab-ausgekoppelten "Nevermind" und sorgt im Alleingang dafür, dass eine ganze Generation Kids bei diesem Titel nicht mehr ausschließlich an ein nach-einem-Dollar-tauchenden Baby im Swimming Pool denken wird, sondern eben auch an diese unglaubliche Band aus Kiel. "Nevermind" ist ein Song, zu dem man die Kontrolle über seinen Körper abgeben will. Musikalisch im Spannungsfeld zwischen tänzelndem Indierock, Emo-Soul-Dramatik und der guten Sorte Popmusik ist "Nevermind" eine Mut machende Hymne, die Sänger Jakob Amr vor allem für sich selbst geschrieben hat.
Für die Band ließ er den größten Teil seines bisherigen Lebens hinter sich und zog von der Kulturmetropole Hamburg in die… naja, Nicht-Kulturmetropole Kiel, um dort mit seinen Mitstreitern JP Neumann, Djamin Izadi und den Brüdern Lennart und Felix Eicke an diesem Album zu arbeiten. Es spricht für die erhabene Coolness dieser Band, dass sie es nicht andersherum gemacht haben. Jakobs Opfer hat sich gelohnt: wenn sich "Nevermind" in sein Finale entlädt, möchte man ein Freudentränchen verdrücken.
Von hier an ist das Leoniden Album eine einzige Lustwandelei durch die Geilheit von Musik an sich.
Mit "1990" folgt direkt der nächste große Hit, der den Endorphinspiegel noch einmal hochzuschrauben weiß. Kein Wunder, dass der Song monatelang bei zahlreichen Radiosendern auf höchster Rotation lief. Nach dem Gitarrengewitter rückt im anschließenden "The Tired" ein anderes Instrument in den Vordergrund: ein hämmerndes Bar-Piano eröffnet den Song, der sich als RnB im Leoniden-Format entpuppt. Bruno Mars wäre ganz stolz auf all den Soul in diesem Stück, in dem die Lethargie der vieldiskutierten Millenials besungen wird: "Let the Tired be ignited" heißt es im Refrain, und richtet sich an die vom Internet träge-gemachten Slacker, die nur darauf warten, dass ihnen das nächste geile Projekt von selbst in den Schoß fällt oder ihr Heil in aufgehypten Start Ups suchen, die nach weniger als einem Jahr wieder Insolvenz anmelden. Der Arsch muss hochbekommen werden, du musst das Ding selbst in die Hand nehmen. Und das kann jeder schaffen, wenn er nur genug Energie dafür aufwendet.
In "Iron Tusk" wird es dann wieder wirklich wild: Jakob Amr singt wie eine Kreuzung aus Daryl Palumbo, Cedric Bixler und ja, auch Michael Jackson, die Gitarre überschlägt sich dazu, das Schlagzeug feuert Trommelwirbel an Trommelwirbel raus. Und so geht es immer weiter, jeder Song bringt sein eigenes Alleinstellungsmerkmal mit. Mal sind es Percussions, immer wieder ein Frauenchor, Vocal-Samples, lange Instrumentalpassagen. Und immer, immer wieder diese unwiderstehlichen Melodien – alleine Lennart Eickes Gitarrenlinien aus dem smoothen "North" oder dem band-definierenden "Two Peace Signs" sind kleine Meisterwerke für sich. Es mag wie eine Phrase klingen, aber es ist so: dieses Album wird nicht langweilig, es gibt keinen Leerlauf, sondern immer wieder neue Vibes, Hooks, Ideen, fast greifbare Freude an dem, was gerade passiert.
Diese Band hier hat Style, sie hat Chic, aber sie will damit nicht den Dicken markieren. Hier wird nicht geprollt, das ist aufrichtig, oder wie die Band ihr Selbstverständnis auf den Punkt bringt: "Real ist das neue Real".  So dumm es klingen mag: Leoniden machen coole Musik für alle. Hipster, Hardcore-Typ, Indie-Kids, Rocker, Club-Gänger, Disco & Soul Freaks kommt zusammen, das hier ist für uns alle zusammen!
Mehr lesen..
Kontakt
Booking
Daniel Treseler
PR & Marketing
Louise Lässig