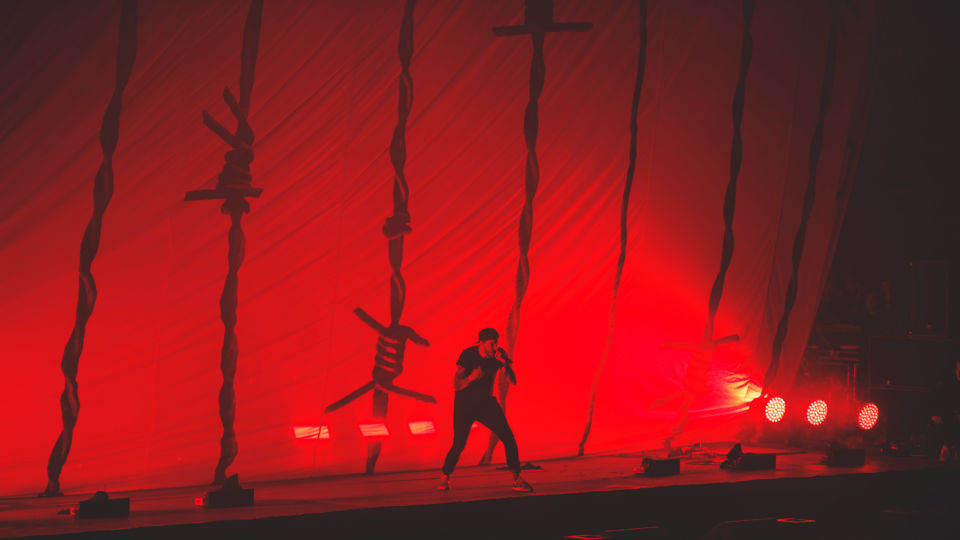 On Tour
DE
Einfach war es nicht: Beinahe vier Jahre ist es her, dass mit "Hinterland" das bislang letzte Casper-Album erschienen war. Der Nachfolger "Lang lebe der Tod" wurde verschoben, verfeinert und vermutlich auch mal verflucht. Jetzt aber steht fest: Casper hat der vielleicht schwierigsten Phase in seinem Leben ein echtes Großwerk entrissen, das anders ist als seine bisherigen – und trotzdem mindestens genauso gut. Ein Triumph.
Das Schlüsselwort der vergangenen Jahre: Angst. Alle scheinen immerzu Angst zu haben, und so sind natürlich auch nahezu alle gesellschaftlichen und politischen Entwicklungen dieser Zeit eng mit dem Begriff Angst verknüpft: Angst vor zu vielen Geflüchteten, Angst vor Armut, Angst vor der Digitalisierung, Angst vor dem Alter. Angst vor allem und jedem und davor, dass es nicht immer so sein wird, wie es einmal war.  Das neue und insgesamt vierte Casper-Album, welches am 1. September 2017 erscheint, heißt "Lang lebe der Tod". Und weil die Angst vor dem Sterben die Urangst schlechthin ist, nimmt er die Angst also gleich im Titel auf die Schippe. Dabei hat auch Casper Angst, so wie wir alle. Und zwar vor allem: Angst, dass seine Musik nicht gut genug oder nicht verstanden werden könnte.    "Lang lebe der Tod" sollte schon einmal erscheinen, vor ziemlich genau einem Jahr. Damals war der Titelsong als erste Single veröffentlicht worden und es war einer der besten Songs dieser Karriere. Ein sequenzergetriebenes Industrial-Rap-Monster, das mit Sizarr, Dagobert und – ein echter Scoop! – Blixa Bargeld genau die richtigen Gäste präsentierte. "Lang lebe der Tod" legte die Latte für das vierte Casper-Album ziemlich hoch und irgendwann stellte er fest: Der Rest ist noch nicht ganz auf dem Niveau. "Ich wollte mit diesem Album unbequeme Musik für unbequeme Zeiten machen", sagt Casper, "es sollte wirr sein und schwer zu verfolgen. Gerne auch ein bisschen kaputt, aber irgendwie fehlte damals noch etwas."  Mit "Hinterland" hat er das Leben umarmt, den Aufbruch und die Suche. Nun begibt sich Casper in die Dunkelheit und umarmt den Tod, aber natürlich nicht nur das: Der Tod wird bei ihm zu einer Metapher für das Leben, das wir führen. "Lang lebe der Tod" wartet mit zahlreichen musikalischen Überraschungen auf, präsentiert ebenso unerwartete wie sensationelle Feature-Gäste, und vor allem: einen Casper, der sich ein weiteres Mal hinterfragt hat und dabei zu ganz neuen und aufregenden Antworten gekommen ist.  Insofern hat sich jede Sekunde des Zweifels, des Haderns und der harten Arbeit an diesem Album gelohnt. Casper hat das Politische im Privaten gefunden und andersrum. Und ohne die dunklen Tage dazwischen hätte er den Zeitgeist vermutlich nicht so genau auf den Punkt erwischt. Eins aber ist ihm wichtig: "Es geht mir nicht darum, mit erhobenem Zeigefinger Dinge zu denunzieren, sondern ich will diese Orwell-Welt beschreiben, in die wir uns immer mehr bewegen, und sei es mit den Mitteln der Übertreibung."  Casper hat Nine Inch Nails gehört, die Krupps, KMFDM, Alien Sex Fiend und die Einstürzenden Neubauten. In anderen Phasen hat der Hardcore-Sozialisierte sein Herz für Deutschpunk wiederentdeckt, am nächsten Tag Drake und Kanye gefeiert und kurz danach die DJ Helena Hauff. Am Ende ist "Lang lebe der Tod" ohnehin ganz klar Post-Genre: Der leidenschaftliche Musikfreak Casper war schon immer zu offen und vielseitig orientiert, um sich musikalisch zu beschränken, diese Zeit der offenen Grenzen ist insofern seine Zeit. Und am Ende ist es ohnehin alles Casper-Musik, unter seiner Hand fließt alles zusammen, wird alles eins.   Neben den Genannten gibt es weitere Gäste und helfende Hände auf diesem Album: Portugal The Man gastieren ebenso wie der alte Freund Ahzumjot auf "Lass sie gehen", Drangsal ist bei der ersten Single "Keine Angst" dabei, abermals Portugal The Man sowie Silkersoft koproduzierten einzelne Passagen und natürlich halfen einige Musiker. Vor allem aber ist "Lang lebe der Tod" das gemeinsame Werk von Casper und seinem Produzenten Markus Ganter, der auch die meisten Instrumente im Alleingang einspielte. Es kann niemals bleiben wie es ist und wenn es so bliebe, würde es langweilig. "Wenn die Leute verstünden, worum es mir mit diesem Album geht, wäre das schön", sagt Casper. Lang lebe der Tod!

Mit dem neuen Album "Lang lebe der Tod" geht es ab diesem Herbst auf gleichnamige Tour durch Deutschland, Österreich, Luxemburg und die Schweiz.
Tickets sind bereits bei krasserstoff.com und an allen weiteren Vorverkaufsstellen erhältlich.
"Lang lebe der Tod" Tour 2017
Präsentiert von JUICE, Intro Magazin und laut.de
31.10.17 Münster, Halle Münsterland 
02.11.17 Luxemburg (LU), Rockhal 
03.11.17 Zürich (CH), Samsung Hall 
04.11.17 Stuttgart, Schleyerhalle 
08.11.17 Hamburg, Sporthalle 
10.11.17 Dortmund, Westfalenhalle 1 
14.11.17 Wien (AT), Wiener Stadthalle 
17.11.17 München, Zenith 
18.11.17 Frankfurt, Festhalle 
21.11.17 Leipzig, Arena Leipzig 
22.11.17 Bremen, ÖVB-Arena 
24.11.17 Berlin, Max-Schmeling-Halle 
25.11.17 Hannover, Swiss Life Hall 
"Lang lebe der Tod" Tour 2018 
Präsentiert von JUICE, Intro Magazin und laut.de
09.03.18 Würzburg, s. Oliver Arena 
10.03.18 Erfurt, Messehalle
Mehr lesen..
Kontakt
Booking
Felix Hansen
PR & Marketing
Louise Lässig