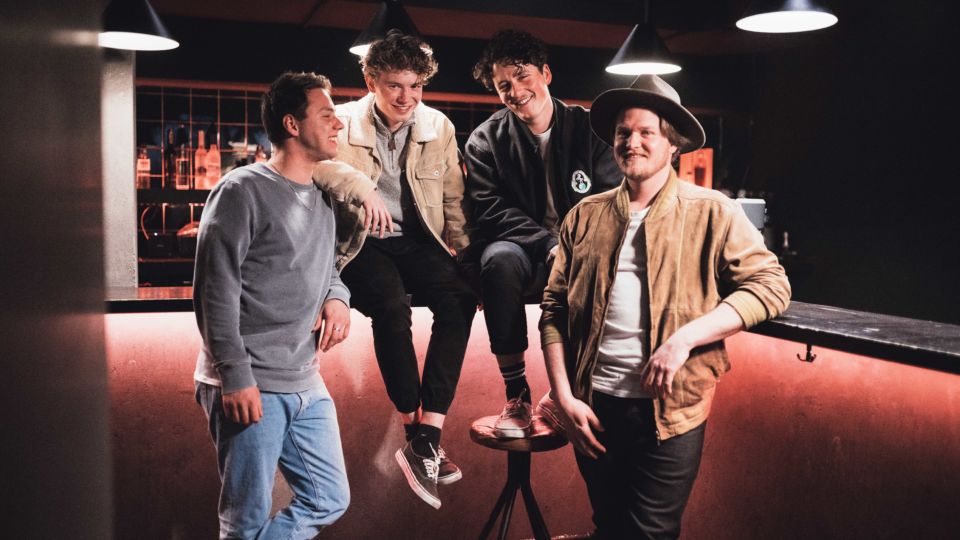 On Tour
DE
Die Großstadt als Verheißung? Provinz haben da so ihre Zweifel. "Sag, was soll der ganze Lärm? / Hype um nichts 
/ Alle kommen sie her / doch versprechen könnt ihr nichts!", singen sie in "Neonlicht", ihrer Debüt-Single, mit der sich eine der besten neuen Indie-Bands der letzten Jahre offiziell vorstellt.
Provinz kommen genau daher: aus der Provinz, zehn Kilometer außerhalb von Ravensburg. Drei der vier Mitglieder sind Cousins und machen bereits ihr halbes Leben zusammen Musik. Ihre Jugend war behütet und von viel Freiheit geprägt, aber: "Sobald man pubertiert, wird es schnell langweilig und man kommt auf blöde Gedanken. Und denkt oft ein bisschen neidisch über die große Stadt." Zum Glück, denn aus jugendlicher Ablehnung sind bekanntlich schon ganze Kulturen entstanden. So plastisch und drastisch wie in "Neonlicht" hat jedenfalls seit "Schwarz zu Blau" von Peter Fox niemand das Großstadtleben auf den Punkt gebracht: "Fangen an, die dreckige Stadt zu fressen / Bis wir fast daran ersticken / Inmitten von Neonlicht gedrehten Kippen / Survival of the fittest", singt Frontmann Vincent, blickt umzingelt von Lärm und Lichtern nach oben und stellt mit vor Wut heiserer Stimme fest: "Ja dann seh ich die Sterne nicht mehr!"
Wie er es schafft, bei dieser doch eher profanen Feststellung vollkommen überzeugend außer sich zu sein, sich komplett im Moment zu verlieren und von der Crescendo-artigen Dramatik der Musik forttragen zu lassen, ist einfach nur wahnsinnig gut und beweist: es ist eigentlich ganz egal, worüber man singt, man muss es nur wirklich so meinen. Provinz machen Songs, bei denen man als Hörer unglaublich nah dran ist, was neben dem Gesang auch der Produktion von Tim Tautorat (u.a. AnnenMayKantereit, Faber, KLAN). zu verdanken ist. Die Stücke dürfen atmen, sich entwickeln, kommen auch mal über Umwege zum Ziel und verarbeiten entlang des Weges ein beeindruckendes Spektrum an Einflüssen.
Mehr lesen..
Kontakt
Booking
PR & Marketing
Louise Lässig