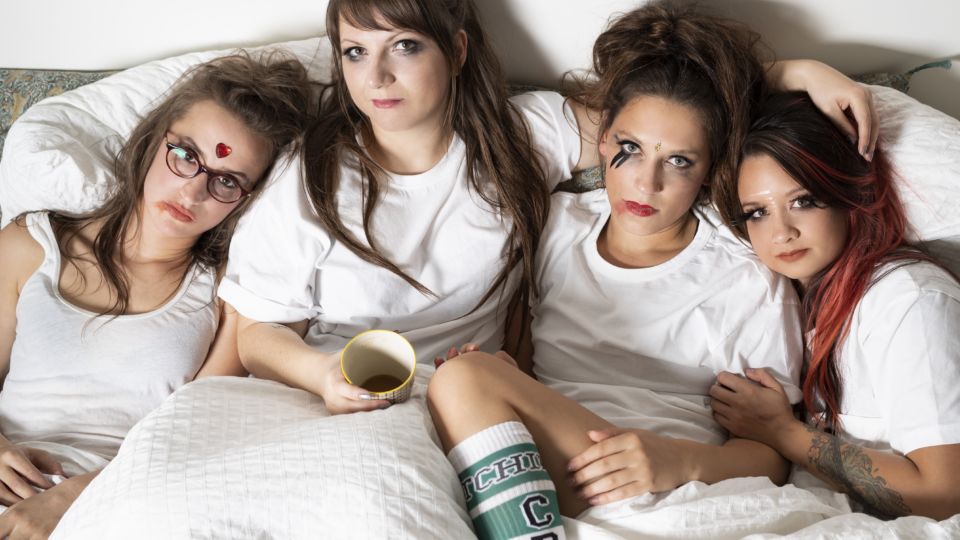 On Tour
DE
Sehr geehrte Damen und Herren,
wir möchten Sie darauf hinweisen, dass Deutschlands letzte RIOTGRRRRL-Band, The toten Crackhuren im Kofferraum endlich wieder auf Tour gehen.
Es handelt sich dabei um die untenstehenden Termine. Es wird Ihnen dringend empfohlen, an mindestens einem Termin bei der Band vorstellig zu werden.
Sollten Sie sich, trotz dieser schriftlichen Belehrung über die Folgen oder deren Kenntnis weigern, eine zumutbare Maßnahme zur Eingliederung in Spaß und Freude anzunehmen, drohen Ihnen Sanktionen (Bier, Schnaps, Spaß).
Sollten Sie an unten genannten Terminen (Mindestzeitraum) spaß-unfähig erkrankt sein, bitten wir um ärztliches Attest und Entschuldigungsgeschenke.
Sie haben die Möglichkeit, sich dazu zu äußern (§ 08 Fünfzehntes Buch Asozialgesetzbuch - ASGB XV).
Dieses Schreiben wurde mit Hilfe einer elektronischen Datenverarbeitungsanlage gefertigt und ist deshalb nicht unterschrieben. Für seine Rechtswirksamkeit ist die Unterschrift nicht erforderlich.
The Toten Crackhuren im Kofferraum - Deutschlands letzte RIOTGRRRRL-Band macht ihre "bitchlifecrisis" auf dem gleichnamigen Album zum Programm! Hier geht es um die nackte Wahrheit.
Fünf Jahre haben The Toten Crackhuren im Kofferraum seit Erscheinen ihres letzten Albums jetzt versucht ihre Spätpubertät hinter sich zu lassen und sich selbst zu therapieren. Sie verstehen sich weniger als Band, mehr als Selbsthilfegruppe oder auch psychosoziales Experiment.
Sie kommen ebenso rotzig wie nachdenklich daher und ihre bildhafte Sprache bringt das Kopfkino in Gang. Ob Alltagsgeschehen "Jobcenterfotzen", gescheiterte Liebesbeziehungen "Auf einem Bett aus Pizzaschachteln" oder längst überfällige Songs wie "OK Ciao" (feat. Pöbel MC), eine Liebeserklärung an den Weltuntergang! Es geht um das wahre Leben da draußen! 
"bitchlifecrisis" - ein Album über Hängengebliebensein, Erwachsenwerden, Lower Class -Feminismus, Gesellschaftsdruck und natürlich Sex und noch mal Sex. Eine Karma-Bitch oder einfach nur eine geglückte Therapie? Mit ihrer eigenen Mixtur aus Electro-Clash, NDW- & Frühpunk-Vibes, Rap-Kollaborationen und charmantem "Trap-Punk" kann diese Platte jetzt schon als ein Klassiker in der Kategorie "übersteigerte männliche Egos triggern" gehandelt werden.
Natürlich bleibt die Band, wie der Name es vermuten lässt, auch auf ihrem dritten Album gewohnt politisch korrekt, vollkommen ernst.
Die Band hat in den vergangenen Jahren wohl so ziemlich alles durchlebt, was der deutsche Musikzirkus so zu bieten hat. Sie wurden als K.I.Z Support von wütenden Hip Hop Fans bespuckt, von Managern abgezockt, sie haben den Bundesvision Songcontest mit einer nicht nennenswerten Platzierung überlebt. Aber hey, so schnell lassen sich die Girlz nicht unterkriegen und zeigen mit ihrem "bitchlifecrises" Album der Welt da draußen, dass man trotzdem noch ganz entspannt durch die Hose atmen kann.
Mehr lesen..
Kontakt
Booking
PR & Marketing
Louise Lässig