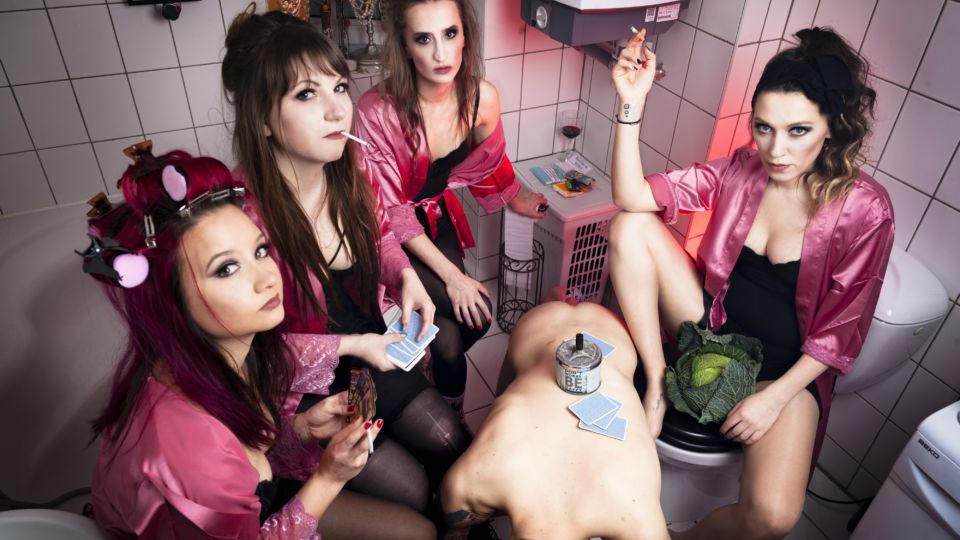 On Tour
DE
Zu Beginn dieser Bandvorstellung ein kleines Experiment: bitte kreuzen sie an, was Ihnen hiervon besonders bekannt vorkommt.
A) Wenn die Mädchen in dieser Band eines verbindet, dann ist es der unbändige Wunsch, zu singen und zu performen. Auf die Frage, was ihr größter Wunsch sei, betonte die Band im Bravo-Interview geradezu euphorisch im Chor: "Unser größter Wunsch wird gerade wahr! Wir wollten singen und performen, so lange wir denken können und nun endlich, endlich, endlich ist es soweit!"
B) Die Mädchen in dieser Band sind in der Band, weil sie nicht wissen, wo sie sonst hin sollen. Und wenn ihnen etwas Besseres einfällt, dann sind sie eben raus aus der Band. Während sie aber drin sind, nutzen sie es aus, um nach allen Regeln der Kunst durchzudrehen.
A) Die heißesten Produzenten Deutschlands, ja der ganzen Welt, reißen sich um die jungen Popstars. Das Album gibt sich im Handumdrehen als erstklassiger Chartstürmer zu erkennen, der mit internationalen Pop- und R'n'B-Produktionen locker mithalten kann.
B) Weil die Band keine Lust und kein Geld hat, um mit namhaften Produzenten zusammenzuarbeiten, nehmen sie Produzenten mit schlechtem oder gar keinem Ruf oder sie produzieren die billigen Beats einfach selbst. Ist ja eigentlich auch total einfach.
A) Das Komplettpaket der Band ist ohne Zweifel überzeugend. Das Image, das Styling, die Choreographien, die Songtexte, das Management – nur die fähigsten Businessexperten haben sich der Band angenommen, um sie schnellstmöglich an die Spitze der Charts zu katapultieren.
B) Das Credo der Band lautet: "Ohne Proben ganz nach oben." Wenn sie aber aus Versehen doch mal proben sollten, oder sie am Ende ganz unten landen, ist ihnen das auch scheißegal.
A) Die Mädels in der Band sind so süß und charmant, dass sie jedem Teenagerjungen schlaflose Nächte bereiten werden und jedes andere Mädchen wiederum davon träumen wird, so zu sein wie sie.
B) Die Mädchen hassen Castingbands, obwohl sie sich selber gecastet haben. Sie würden der Meute von aufgehübschten Popstars-Eintagsfliegen wohl eher einen Drink ins Gesicht kippen als einen mit ihnen zu trinken.
Auswertung:
Sie haben vorwiegend A) angekreuzt: Sie sind mit den Phänomenen im deutschen Popgeschäft bestens vertraut. Sie wissen, wie es läuft. Alles ist niedlich, alles hört sich gleich an, alles ist nachgemacht und alles ist nach ein paar Monaten wieder vergessen. Herzlichen Glückwunsch, sie sind bereit für etwas Neues!
Sie haben vorwiegend B) angekreuzt: Sie haben scheinbar schon Wind von The T.C.H.I.K bekommen. Vielleicht waren Sie auf einem ihrer Konzerte oder Sie verbringen den ganzen Tag im Internet. Wie dem auch sei, es wird sie begeistern zu erfahren, dass The T.C.H.I.K. in Kürze auf Tour gehen werden!