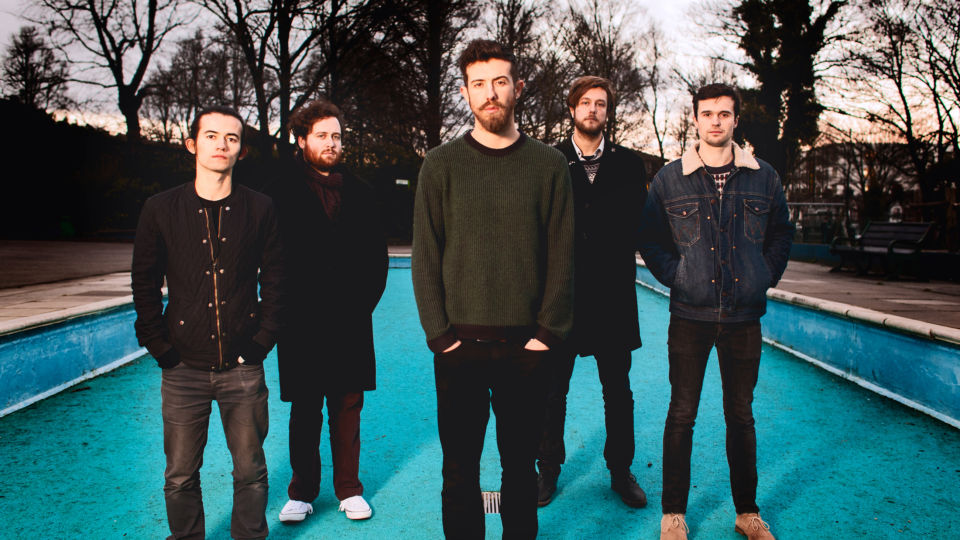 GB
In Musik, so schemenhaft wie dieser, verliert man sich gern. Man denkt vielleicht an Sigur Ros, an James Blake oder an Aphex Twin. Aber es gibt diesen klaren, eigenen Sound - eine Stimme, die aus diesem Sound entsteht. Eine goldene Form, eine Struktur, eine Mischung aus Sonnenlicht und Skulptur.
Phorias Haupt-Songwriter und Produzent Trewin Howard versteht seine Musik perfekt. Aber er versteht sie auch gar nicht. Denn sie kommt bei ihm fertig geformt an, in einem Guss, einer Farbe, einem Gewicht. Wenn man dies weiß, macht die Musik von Phoria vielleicht sogar noch mehr Sinn.... 
Es begann so:

Phorias Kern, nämlich Trewin, Gitarrist Jeb und Pianist/Synthiespieler Ed, wuchs gemeinsam im ländlichen Salisbury auf. Als Kinder nahmen sie im gleichen kleinen Zimmer im Obergeschoss der Grundschule gemeinsam Musikunterricht, traten in ihren Chören und kleinen Orchestern auf. Als Trewin zu seinem zehnten Geburtstag eine Bassgitarre bekam, beschloss er, dass die drei Freunde eine Band gründen sollten. Durch ihre Teenagerschulzeit wandelten sie sich von den nerdy Geeks, dir ihr Mittagessen in der Bibliothek zu sich nahmen, zu den cool Kids, die an Musikabenden zusammen auftraten, bevor sich mit 18 Jahren erst einmal ihre Wege trennten.
Trewin begann, am Dartington Art College Kunst zu studieren, während Jeb und Ed an der Universität Southampton Soziologie und Musik studierten. In Dartington erkannte Trewin, dass er eine Sehnsucht empfand, die er nicht definieren konnte. Er hatte es immer geliebt, Musik sehr genau zu hören und sich Gedanken über die Welten, die sie kreieren konnte, zu machen. Er liebte vor allem Musik, die selbst in ihren kleinsten Details epische Qualität durchschimmern lassen konnte. So langsam wurde ihm klar, dass er synästhetisch begabt ist - also die Fähigkeit besitzt, Musik in Farben und Formen wahrzunehmen.
Inspirationen gab es für ihn viele: von der Kassette "The London Philharmonic Orchestra plays ABBA" zu
Landstreicher Booking GmbH • Reichenberger Straße 26 • 10999 Berlin • P +49 30 4199 3970 Landstreicher Booking Köln GmbH • Neptunplatz 6A • 50823 Köln • P +49 221 9776 5603 info@landstreicher-booking.de • landstreicher-booking.de
Muse oder The Cooper Temple Clause, von Debussy und Ravel über die Beach Boys, Radiohead bis hin zu den strukturellen Melodien von Joanna Newsom. Die Tatsache, dass er Musik selbst machen konnte, war zugleich verwirrend und spannend. Trewin traute sich, wechselte seine Kurse von Kunst zu Musik und plötzlich, wie aus dem Nichts, waren da 300 (!) Kompositionen.
Er erkannte, dass er kein gewöhnlicher Sänger sein, und dass die Band nicht in einem herkömmlichen Set Up spielen musste. Sie konnten Musik zusammenbasteln, wann immer sie sich sahen. Nach der Universität schlossen sich Tim an Bass und Synthies und der Drummer Seryn, der ursprünglich aus Tokyo stammt und in Brighton am Institute of Modern Music studierte, der Band an. Die Fünf zogen in ein gemeinsames Haus in Brighton und begannen, gemeinsam an Kompositionen zu arbeiten.
Doch diese Harmonie wurde drastisch zerstört, als Trewin mit 25 plötzlich, unter unerfindlichen Umständen, krank wurde. Er nahm verwirrende sensorische Symptome wahr: ohrenbetäubend lauten Tinnitus, Reisekrankheit, kombiniert mit stark beeinträchtigenden optischen Phänomenen. Eine erschreckende Erfahrung für so ziemlich jeden, aber vor allem für jemanden, der sein Leben durch die Musik wahrnimmt. Über ein Jahr lang wurden Tests durchgeführt, das Problem konnte nicht diagnostiziert werden. In Trewin wuchs die Angst, dass er nie wieder einem Orchester lauschen könnte oder überhaupt Sound richtig wahrnehmen. Sein Geist fühlte sich ständig an der Grenze, weil seine Sinne überall waren.
Mit der Zeit ging es Trewin wieder besser, aber es blieben einige auditorische Effekte. So nimmt er absolut alle Geräusche um sich herum wahr - was sehr erschöpfend sein kann - und hat kaum Toleranz für unangenehme Töne. Aber heute sagt er, dass diese Krankheit ihn seltsamerweise zu einem besseren Künstler gemacht hat. Sein verändertes Hörempfinden hat dazu beigetragen, dass auf dem neuen Album "Volition" die Produktion und Mixe besser sind als je zuvor. Und - vielleicht noch wichtiger - hat die Krankheit ihn Dinge anders erleben lassen und gezeigt, wie wertvoll all das ist: die enge Freundschaft zu Ed, Jeb, Seryn und Tim und die Musik, die sie gemeinsam machen. Durch all dies ist die Band noch weiter zusammengewachsen und alle Mitglieder sind noch entschlossener, ihre langjährige Vision von Phoria zu realisieren.
Phoria tragen ein Herz, einen Puls und eine Seele in sich - aber vor allem diesen gewaltigen Kern ihren Freundschaft, laut gespielt in Sound und Licht. 
Mehr lesen..
Termine
Keine aktuellen Termine.
Kontakt
Carlo Luis Ruben Schenk
Katharina Wortberg