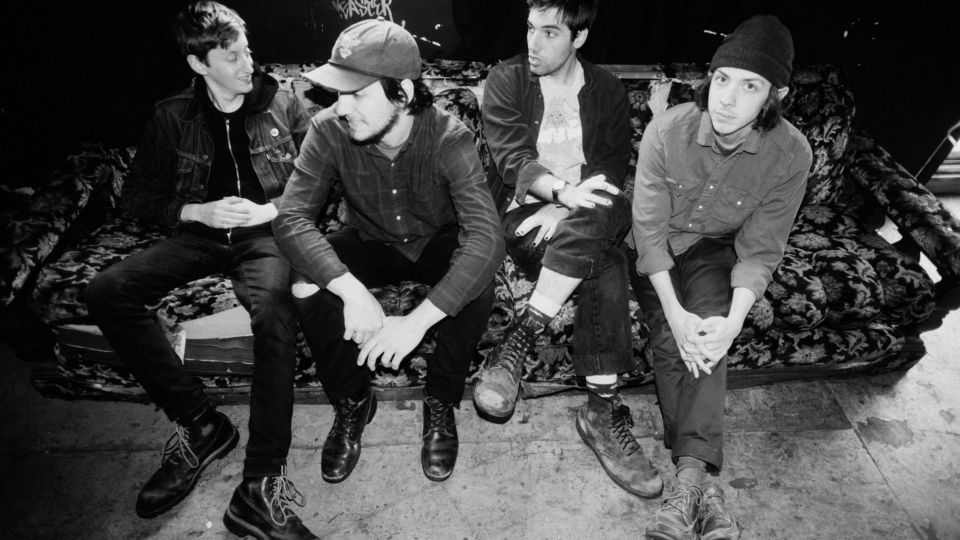 US
Hidden Driver, der Opening Track von LVL UPS dritten Album und Sub Pop Debut Return to Love lässt nie nach. Was mit unaufdringlichen Gitarren und Vocals beginnt, drängt weiter in neue Verse voller Tiefen und Intensität, bis hin zu einem hemmungslosen, triumphalen Ende

"God is peeking, softly speaking", so lautet der Refrain, eine Auseinandersetzung mit der Beziehung zwischen Spiritualität und kreativer Inspiration, hiermit stellt sich eine Band vor, die immer weiter nach vorne drängt.
LVL UP, Gitarristen Mike Caridi und Dave Benton, Bassist Nick Corbo und Drummer Greg Rutkin, sind eine waschechte Kollaboration. Eine Band, die es schafft stilistisch unterschiedliche Ideen von vier Mitgliedern aufzunehmen und daraus etwas ganz Neues zu kreieren. Caridi, Benton und Corbo schreiben und singen gleichermaßen und wollen ihre Ideen gleichberechtigt in der Band einbringen. Daraus resultiert ein Album voller unterschiedlicher Blickwinkel - aber einem geteilten Antrieb.
"Wir haben durch die Bank ziemlich unterschiedliche Inspirationen", so Benton. Die Musik erwächst aus gemeinsamen Melodien und experimenteller Sensibilität, ebenso von einem kleinen Augenzwinkern hin zu musikalischen Ikonen, wie Neutral Milk Hotel und Mount Eerie. Aber jeder Songwriter hat im Entstehungsprozess verschiedene Visionen und so kommt es nicht immer zu einer Einigung – eigentlich sollte es keinen Sinn ergeben, aber letztendlich tut es das doch.
LVL UP wurden 2011 während ihres Studiums als Recording Project von Caridi, Benton, und ihrem Freund Ben Smith gegründet, mit dem eigentlichen Vorhaben eine Split Cassette mit Corbos damaligen Solo-Material zu veröffentlichen. Anstelle dessen veröffentlichten sie als Band das Album Space Brothers und kurz darauf trat Rutkin der Band für erste Live-Shows bei.   
Smith verließ die Band wenige Zeit später aus persönlichen Gründen, kurz vor der Veröffentlichung des zweiten Albums Hoodwink, einem geteilten Release zwischen Caridis und Bentons Label Double Double Whammy und Exploding in Sound.
Die Band fing an der Universität an zusammen zu spielen und nutze das Studentenzentrum auf dem Campus für Proben und erste Auftritte. "Es war förmlich ein Brutkasten für uns und viele andere Bands.", so Corbo. "Es bot uns ein bisschen Erfahrung und erstes Selbstvertrauen, sodass es für uns nicht angsteinflößend war, das erste Mal auf Tour zu gehen."
Ebenfalls Teil der Universitäts-Community war Return to Loves Produzent Mike Ditrio, der LVL UPs vorherige Platten gemixt hatte und "im Prinzip ein fünftes Mitglied der Band war.", erzählt Corbo.
"Er hat eine tragende Rolle gespielt in der Entwicklung unseres Sounds ohne ihn zu sehr einzuschränken. Außerdem hat er unsere persönliche Dynamik positiv navigiert.
Dieser Sound ist geprägt von Hall, Harmonien und Tonband-Verzerrungen - Eine kühne Balance zwischen Pop und Experimental-Musik.
Von den letzten schnellen, aber fließenden Versen von Blur, bis hin zur überwältigenden Gitarrenwand in The Closing Door, jeder Song zerrt und treibt auf fesselnde und unerwartete Art und Weise. Es herrschen gleichzeitig Behutsamkeit und Spontanität. Letzteres wurde mit Hilfe eines Ein-Song-pro-Tag-Projekts entwickelt, das Caridi und Corbo antrieb, Songs innerhalb eines Tages zu Papier zu bringen und aufzunehmen. Einiges dieses Materials, inklusive Naked in the River with the creator, schaffte es bis auf das Album. 
"Letztlich habe ich dann diesen teils dröhnenden, teils lauten Guitarren-Song geschrieben. Eine Idee, die sich schon länger in meinem Kopf herumtrieb und ich habe es niemals geschafft sie umzusetzen, bis ich den Song in einem Tag schreiben musste.", sagt Corbo.
"Was mich angetrieben hat, war mich an bestimmten Worten und Bildern zu orientieren, anstatt aus einer unendlichen Menge von Bildern zu ziehen. Es ist einfacher sich ein wenig einzuschränken."
Mehr lesen..
Termine
Keine aktuellen Termine.
Kontakt
Florian Lippmann
Katharina Wortberg