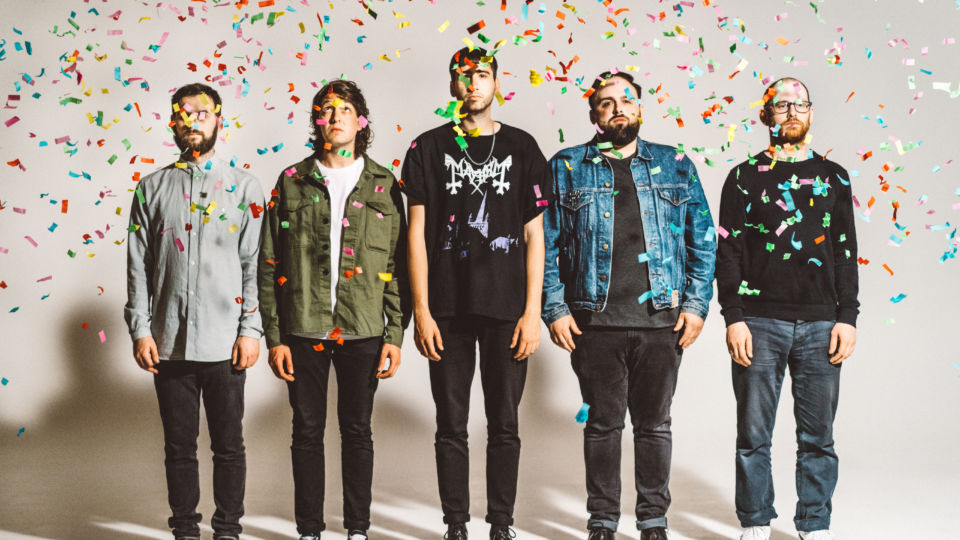 BE
Nenn es Shoegaze, nenn es Dream Pop, nenn es majestätisch herzzerreißenden Alternative-Rock, wer will sich da festlegen? Auf ihrem Debütalbum Space kreiert die frischbackene belgische Band Newmoon einen kaleidoskopischen Wirbel der Klänge, eine abstrakte Welt musikalischer Texturen, Stimmungswechsel mit Referenzen an den Post-Punk und akustische Tsunamis, deren Klangwellen sich an den lichten Gestaden der eigenen Vorstellung brechen. 
Ihren Bandnamen Newmoon haben die aus Antwerpen und Gent stammenden Musiker einem Elliott-Smith-Album entlehnt. Vor der Gründung im Jahr 2013 spielten einige Bandmitglieder in der sehr beliebten Hardcore-Punk-Formation Midnight Souls, die in ihrer Heimat längst als eine der besten ihrer Art gilt. Obwohl die beiden Bandprojekte bei oberflächlicher Betrachtung geradezu konträr scheinen, ist gerade die Dynamik auch für das Genre Hardcore von essentieller Bedeutung und darauf versteht sich dieses Quintett eben meisterlich.
Newmoon gehen gleichwohl auf eine ganz anders gelagerte Entdeckungsreise. Ozeane so tief wie unergründlich, Berge, deren Gipfel bis in den Himmel ragen, Space strebt nach dem Gigantischen. In einem Moment noch still und intim, im nächsten Moment schon Grenzen überschreitend. So klingen junge Männer im Überschwang eines Reifeprozesses, in dem sich ihre Sicht auf die Welt erweitert und das Potential ihrer Gitarren unerschöpflich scheint. Wenn Hardcore in all seiner Kompromisslosigkeit schwarz und weiß ist, greifen Newmoon auf eine vollkommen andere Farbpalette zurück. Hier kann man Anklänge an Slowdive, Seefeel, Pale Saints und My Bloody Valentine entdecken, ohne den Eindruck zu gewinnen, dass Newmoon sich in der Vergangenheit verlieren.
"Es gibt dieses Klischee, dass Bands ihr ganzes Leben haben, in dem sie ihr erstes Album schreiben, aber auf Space trifft das tatsächlich zu", erklärt der Sänger und Gitarrist Bert Cannaerts. "In unseren Lebensgeschichten gibt es nicht den einen zündenden Moment, sondern wir bringen eher alle unsere bisherigen Erfahrungen ein. Konzeptionell basiert Space auf der Idee, alle menschlichen Regungen zu umfassen. Der Titel bezieht sich auf den Raum zwischen Menschen, sowohl im emotionalen als auch im wörtlichen Sinn. Raum kann einem die Luft nehmen und emotional aufzehren oder ein Ort sein, an dem man sich so fehl am Platz fühlt, dass einem jede Form der Flucht wie ein Glücksfall vorkommt. Zudem entbehrt die Idee einer Band namens Newmoon, die ihr Album Space nennt, offensichtlich auch nicht einer gewissen Ironie."
Die Themen von Space, die eher eine innerliche als eine intergalaktische Reise bilden, wurden zum Teil von einem Trip nach Japan inspiriert, was für jeden, der zum ersten Mal dieses Land besucht, eine ebenso aufregende wie verwirrende Erfahrung ist. Der Text des als erste Single auserkorenen Songs 'Head Of Stone' entstand zum Beispiel auf einer Fahrt mit der Hochgeschwindigkeitsbahn auf dem Weg von Tokio nach Kyoto. Der flüchtige Blick aus dem Fenster auf diese gänzlich fremdartige Welt fand sich als Tagebucheintrag wieder, ebenso die Unfähigkeit, sich sprachlich zu verständigen und damit jede vertraute Grundlage zu verlieren. Musikalisch ist dies eine Hybride aus Gitarrenriffs à la Dinosaur Jr. und den psychedelischen Grooves der Stone Roses – ein starkes Statement, dessen musikalischer Furor die Textbotschaft noch übertrifft. Das mit enormem Hall aufgenommene 'Helium' entschwindet in ganz anderen Sphären, greift mit seinen verführerischen Klängen auf Bands wie Ride und Catherine Wheel zurück und kreiert ein Update für eine neue Generation, die gegen billige Effekte und hohle Popmusik immun ist und tiefe Gefühle bevorzugt.
"Die andere Idee von Space ist, emotional schwierige Erfahrungen greifbarer zu machen", erläutert Bert. "Mir fällt es leichter, mich mit dem Raum zu beschäftigen, der zwischen den Menschen existiert und über jene Menschen zu singen, die ich verloren habe, oder über Beziehungen, die ein Ende gefunden haben. Abstraktionen können dabei hilfreich sein. Ich habe harte, düstere Zeiten durchgemacht, aber ich habe festgestellt, dass es nur wenige Male gibt, wo man den ganzen Prozess von Trauer bis zur Erlösung und einem aufbauenden Höhepunkt durchlebt – hoffentlich können wir das alles mit Space vermitteln."
Newmoon zielen definitiv mehr aufs Herz als auf den Kopf. Vielleicht auch ein Grund, warum sie The Jesus & Mary Chain, Slowdive, The Ramones, Oasis und Sunn o))) als ihre Einflüsse nennen. Das mögen sicherlich grundverschiedene Künstler sein, doch alle sind geschlossene Einheiten mit einem einzigartigen Ansatz. Ein paar Sekunden Musik all dieser verschiedenen Bands genügen zumeist, um sie an ihrem Sound sofort zu erkennen. Das gilt übrigens auch für Newmoon.
Die Musiker, befreundet seit ihren Tagen als umtriebige Teenager, begannen ihre Karriere ohne ausgeklügelten Plan, stattdessen reifte in ihnen allmählich der Wunsch, der restriktiven Welt des Hardcore zu entfliehen und neue Klanglandschaften zu erobern. Sie sahen das als Experiment. Als Erkundungsreise. "Wir sind mit einer Liebe zu Joy Division und The Cure aufgewachsen", erläutert Bert. "Aber die Musik, die wir machten, war viel einfacher zu spielen, so dass wir nicht sicher waren, ob wir fähig waren, jene Musik zu reflektieren, die wir eigentlich liebten. Mit Newmoon haben wir unseren Weg gesucht, wie wir uns in diesem Kontext einfügen. Wir entdecken nach wie vor Dinge. Alles fühlt sich neu an."
So wie Berts Gesang sich wie ein weiteres Instrument in die Klanglandschaft und in den Sound der Band einfügt, ist es kaum ersichtlich, dass die Songtexte auch von literarischen Größen wie Kurt Vonnegut, Haruki Murakami und John Steinbeck inspiriert sind, aber im Gespräch mit dem Sänger wird man eines Besseren belehrt. "Einen Schriftsteller wie Vonnegut zu lesen ist für mich als Songtexter ebenso inspirierend wie für mein Leben. In Slaughterhouse 5 findet er genau die richtige Balance zwischen Zynismus und Schönheit. Ich habe mich immer mit der Zeile 'So it goes' identifiziert, die er benutzt, wenn jemand in dem Roman stirbt oder irgendetwas Schreckliches passiert. Ich benutze sie, um meinen eigenen Zynismus zu bekämpfen, wenn ich keine Kontrolle über eine Situation habe: So ist das nun mal. Ob das nun gut ist oder nicht, es ist am besten weiterzumachen und nicht zu viele Gedanken an Vergangenes zu verschwenden. So it goes."
Eine frühe Demoaufnahme, die man im Schuppen eines Freundes gemacht hatte, stellten sie im Februar 2014 ins Netz und dann ging alles recht schnell. Innerhalb von wenigen Tagen wurden sie von Touché Amorés Label Secret Voice/Deathwish Inc unter Vertrag genommen und veröffentlichten die Aufnahmen auf ihrer ersten EP 'Invitation To Hold'. Bald schon folgten Angebote für Konzertauftritte, aber einige Bandmitglieder waren zu dem Zeitpunkt bereits in Japan und arbeiteten an Ideen, die in ihr Debütalbum einfließen sollten. Der Bassist Robby Geybels hatte allerdings vor Newmoon noch nie ein Instrument gespielt. Die Band besorgte ihm alles Nötige, spannte ihn voll ein und keine sechs Monate später spielte er bereits eine ausverkaufte Show im Electric Ballroom in London.

Auch wenn Newmoon rein klangtechnisch von ihren ersten Banderfahrungen Lichtjahre entfernt sind, haben sie sich den ausgeprägten Do-It-Yourself-Ethos ihrer Punk-Tage bewahrt. Sie nehmen fast alles selbst in die Hand und haben sogar den Hintergrundvorhang für ihre Auftritte selbst genäht. Was auf keinen Fall heißt, dass sie selbstbezogen und egozentrisch wären. Ganz im Gegenteil. Nach den Konzerten findet man die Band nicht selten in kleinen einschlägigen Szeneläden, sei es beim Karaoke oder auf der Tanzfläche, auf der sie auch zu House-Music der 1990er abgehen können. Newmoon sind eine Band, die sich auslebt, die alle Erfahrungen mitnimmt, die das Leben bietet. Sie spielen alle Fender. Sie haben dieselben Tattoos. Sie feiern Partys exzessiver als viele andere.
Und ihre langfristigen Ziele? "Wir wollen, dass sich Menschen in Space verlieren und sich zugleich darin finden", sagt Bert. "Wir wollen, dass sie etwas Neues entdecken, etwas, von dem sie nicht wussten, dass es in ihnen steckt, so wie es bei uns passiert ist."
And so it goes. ...
Newmoon sind: 
Bert Cannaerts (Gesang/Gitarre)
Giel Torfs (Gitarre/Backgroundgesang)
Philippe Corthout (Gitarre)
Robby Geybels (Bass)
Stef Gouwkens (Schlagzeug) 
Read more..
Dates
Currently no dates.
Contact
Booking
Niclas Henßen
PR & Marketing
Jennifer Ohanka