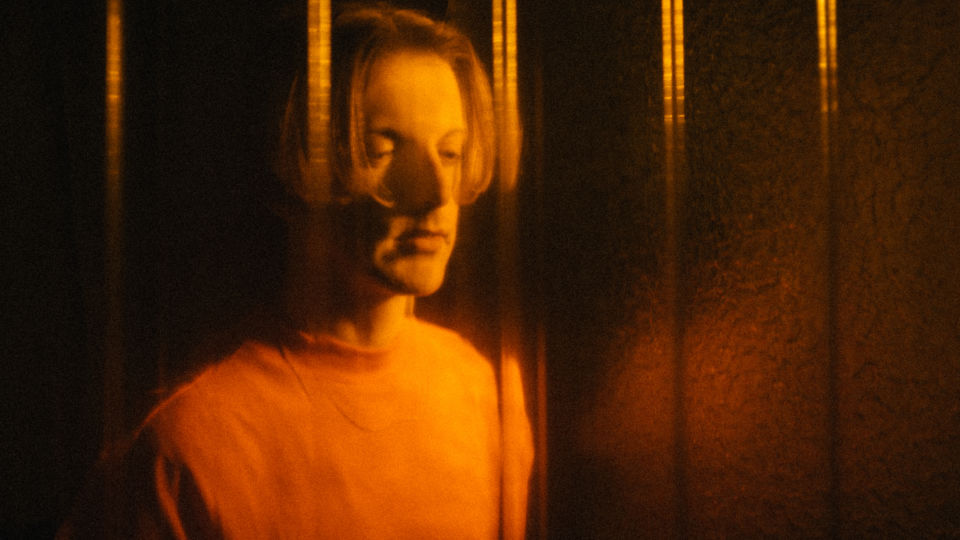 AT
Keine Kunst ohne inneren Konflikt: Mit dem scheinbar mühelos hingetupften Pop-Meisterwerk "Favours" tritt der Songschreiber, Produzent und Musiker Inner Tongue endgültig ins Licht. Vorausgegangen war eine tiefe Identitätskrise.
Wir wissen nicht, wie gut Inner Tongue mit dem Werk von Max Frisch vertraut ist. Ein bekanntes Zitat des Schweizer Schriftstellers passt jedenfalls gut zu der Geschichte, aus der sich die entfesselte Kreativität erklärt, die für "Favours" freigesetzt wurde. Mit souveräner Selbstverständlichkeit verdichtet Inner Tongue auf seinem triumphalen Albumdebüt Genres wie Post-Dubstep, Softrock, Sophisti-Pop, Neo-Soul, Post-Punk und Trip-Hop zu einer organischen Popsprache, die das ihr zugrundeliegende Referenzsystem souverän inszeniert, aber niemals offensiv ausstellt.

Doch bevor wir uns der zauberhaft schwebenden Magie von "Favours" in Gänze widmen, bleiben wir noch einen Moment bei Frisch. Dessen Ausspruch – "Eine Krise ist ein produktiver Zustand. Man muss ihr nur den Beigeschmack der Katastrophe nehmen" – lässt sich tatsächlich auf die Vorgeschichte dieses Albums übertragen: Ohne die bislang größte Krise seines Lebens würde es "Favours" in dieser Form nicht geben, das sagt auch der Künstler selbst.
Quasi von einem Tag auf den anderen verlor Inner Tongue 2013 die Kontrolle über seine Stimme. Zunächst schien es keine medizinische Erklärung zu geben, erst nach einer kleinen Ärzte-Odyssee stellte ein Experte die richtige Diagnose: Der Musiker litt an einer äußerst seltenen Stimmstörung. Inner Tongue musste sich einer Operation an den Stimmbändern unterziehen, für welche die Krankenversicherung die Kosten nicht übernimmt. Zwei Jahre lang arbeitete Inner Tongue Tag und Nacht, um das Geld für die OP aufzubringen, die er schließlich privat bezahlte. Trotzdem war die Operation auch jenseits der üblichen Risiken eine heikle Angelegenheit: Als Kind hatte er während eines Routineeingriffs eine gefährliche allergische Schockreaktion erlitten, ob er die Narkose überhaupt vertragen würde, war unklar.
Um zu verstehen, warum Inner Tongue trotzdem alles auf eine Karte setzte und sich der OP unterzog, muss man wissen, welche Rolle Musik in seinem Leben spielt und immer spielte: Schon als Kind hatte Inner Tongue Gitarre gespielt und kannte über die Plattensammlung der Eltern, sein Vater ist ebenfalls Musiker, alle Songs von The Cure auswendig. Er liebte Pink Floyd, begann Keyboard zu spielen und hat über die Jahre vermutlich jedes Instrument mindestens einmal in der Hand gehabt. Später spielte Inner Tongue in mehreren Bands und wusste bereits damals ganz genau, was er wollte und was nicht: "Einmal habe ich einen Produzenten abgelehnt, der schon mit David Bowie und Duran Duran gearbeitet hatte", sagt Inner Tongue. "Er wollte unseren Sound radiofreundlicher und in Richtung College-Pop gestalten. Daran hatte ich aber kein Interesse. Nun: Die Plattenfirma hat uns danach rausgeschmissen."
Nicht mehr selbst singen zu können war für diesen Mann jedenfalls keine Option. Und so stand Inner Tongue die bislang größte Krise seines Lebens durch. Geplagt von Unsicherheit und Depressionen, aber immer in der grundsätzlichen Gewissheit, das richtige zu tun. Nach der erfolgreichen Operation durfte er mehrere Monate nicht singen und eine Weile lang auch nicht sprechen. Man muss nicht alle medizinischen Details kennen, um sich vorstellen zu können, was ein solcher Zwischenfall für einen Sänger psychologisch bedeutet: Plötzlich waren da nur noch er und die Dinge in seinem Kopf. Seine Gedanken und Erinnerungen wurden zu stummen Wörtern im Dialog mit sich selbst, er sprach mit einer inneren Zunge: Inner Tongue
In diesen langen, zähen Phasen des Hoffens und Wartens hätte er das professionelle Musikmachen beinahe aufgeben. Weil aber Stille schnell zu Langeweile führt, begann er in den endlos faden Stunden ohne Stimme daheim ein bisschen zu komponieren. So entstand eine ganzheitliche Musik, die zwangsläufig zunächst instrumental sein musste. Erst als seine Stimme langsam wiederkam, probierte er nur aus Spaß über diese Tracks zu singen. "Ich hatte überhaupt nichts erwartet und konnte mir nicht vorstellen, dass es funktionieren würde", sagt Inner Tongue. "Damals wurde mir klar, dass genau das die Musik war, die perfekt mit mir harmoniert, das bin ich."
Inner Tongue verspürte keinen Druck und dachte nicht über eine spätere Verwertbarkeit dieser Musik nach. Er ging eine Weile nach New York, knüpfte Kontakte, nahm die Songs später mit befreundeten Musikern noch einmal in einer Bandbesetzung auf, ließ der Musik Raum und Zeit. So entriss Inner Tongue den finsteren Monaten der Sprachlosigkeit und Verunsicherung die wunderbar anmutige EP "Tz, Ka", welche er 2015 veröffentlichte. "Ich wollte das nur für mich selbst machen, die Reaktionen waren mir vollkommen egal", sagt er.
Die EP wurde international begeistert rezipiert und verhalf Inner Tongue zu Einladungen als Support-Act auf Tourneen von Künstlern wie Ghostpoet, Everything Everything und Get Well Soon. Ein Happy End – und doch erst der Anfang, ein erstes vorsichtiges Tasten. Denn Inner Tongue hatte jetzt eine Idee: Er schrieb mögliche Produzenten an, intensivierte seine Kontakte, fand schließlich den idealen Kandidaten in John Catlin. Der britische Engineer arbeitet mit dem Top-Produzenten Alan Moulder in dessen Londoner Assault & Battery Studios, wo er unter anderem Mixe von Warpaint, Iggy Pop, Interpol und Foals betreut hat.
"Ich weiß bis heute nicht, warum", sagt Inner Tongue, "aber irgendwie kam ich problemlos genau mit den Leuten in Kontakt, mit denen ich gerne arbeiten wollte. John Catlin war sehr interessiert an meinen Sachen und inzwischen ist aus unserer Zusammenarbeit eine richtige Freundschaft geworden." In den drei Jahren, die Inner Tongue mit den Songs von "Favours" gelebt und sie immer weiter verfeinert hat, war der Engländer für ihn ein wichtiges und zuverlässiges Korrektiv. Geschrieben und produziert hat Inner Tongue die zwölf neuen Songs alleine, aber ohne Catlin und seine aus guten Freunden bestehende Band würden sie nicht so klingen, wie sie klingen.
"Mir ist extrem wichtig, dass wir Performances einfangen", sagt Inner Tongue über die Zusammenarbeit mit der Band. "Ob ich das später zerschneide, irgendwas anders hinsetze, ist egal. Der gemeinsame Prozess ist wichtig." So entstand ein Album, dem man die organische Basis deutlich anhört. Es geht immer wieder um Sehnsüchte, unerfülltes Verlangen, um Melancholie. Es ist eine rätselhaft schwebende Musik, die stets von einem Mysterium umflort bleibt. Man würde diese Sounds verraten, würde man ihren Ursprung oder den Mann, der hinter ihnen steckt, zu sehr erklären. Es ist ein wesentliches Merkmal großer Kunst, dass man ihr die viele Arbeit nicht anhört, welche in ihr steckt. Inner Tongue macht mit scheinbarer Leichtigkeit Musik, die sich selbst genug ist – und dadurch für alle gültig wird. 
Das Album beginnt mit einem knapp zweiminütigen Post-Dubstep-Fiebertraum, und der bitteren Erkenntnis: "Baby, you're a liar." Ein Satz, der natürlich wichtig ist, weil Inner Tongue besser als andere weiß, wie schwierig sich das Ringen um die eigene Wahrheit bisweilen gestaltet. Gemeinsam mit "Lamac Part II" bildet der Song den Rahmen für ein Album, dem man eine gewisse geistige Nähe zu James Blake, Frank Ocean, Warpaint, Air, The Cure oder den mittleren Radiohead zwar anhört – aber wer diese Musik wirklich durchdringen will, muss viel weitergehen. Die hingetupfte Schwerelosigkeit, mit der "Favours" den Hörer verführt und in seinen Bann zieht, entspringt letztlich zu gleichen Teilen der Songwriting-Meisterschaft von Inner Tongue wie seiner unermüdlichen Suche nach dem richtigen Gefühl, dem richtigen Ausdruck, seiner inneren Wahrheit.
Der Refrain von "Dig Deeper" steht exemplarisch für diesen unermüdlichen Forscherdrang: "You're free to fall as deep as it goes", singt Inner Tongue hier, und einmal mehr wird einem bewusst, was für ein Verlust es gewesen wäre, wenn dieser Mann wirklich nie wieder hätte singen können. Bisweilen erinnert seine Stimme ein bisschen an Terence Trent Darby, es ist jedenfalls eine waidwunde, schwerelose Soul-Stimme, deren unmittelbare Tiefe, Wärme und Intensität einen gefangen nimmt.
Wie einen das somnambul taumelnde "Fallen Empire" immer tiefer in seinen Strudel zieht, oder "New York" sich mit diesem schwebenden Saxofon ins Unermessliche steigert, raubt einem den Atem. "Favours" ist Pop in einer Vollendung, von der oft behauptet wird, sie könne derart traumwandlerisch sicher und handwerklich perfekt eigentlich nur aus England oder den USA kommen. Inner Tongue lebt und arbeitet allerdings in Wien, vor allem aus pragmatischen Gründen: In Wien ist er zu Hause, dort ist sein Studio, sind die Musiker, seine Freunde – es ist die Basis.
Abgesehen davon ist "Favours" ein Album, bei dem es vollkommen egal ist, wo es entstand.  Diese Musik ist im besten Sinne international und weder an Szenen noch an Orte gebunden, weil sie der tiefen Gedanken und Gefühlswert, der Geschichte ihres Schöpfers entstammt. Es war Inner Tongue bei der Produktion dieses Albums egal, wie lange alles dauert. Es gab keine Erwartungshaltung und sogenannte Trends interessierten ihn ebenfalls nicht: Er selbst sollte für diese Musik der einzige Richter sein. "Durch meine Banderfahrungen weiß ich, dass Sound durch die Synchronisation der Vorstellungen mehrerer Beteiligter bisweilen entradikalisiert wird", sagt er. "Deshalb war es mir wichtig, überall das letzte Wort zu haben. Wenn man den künstlerischen Konflikt nicht spürt, macht man am Ende Formatpop – und das wollte ich mehr vermeiden als alles andere."
Durch innere und äußere Bezüge, die in dieser Form nie zuvor zusammengeführt wurden, gelingt Inner Tongue auf "Favours" eine gänzlich eigene, hoch faszinierende Musiksprache, die das Gestern mitdenkt, sich im Heute beweg und ins Morgen weist. Ohne die größte Krise seines bisherigen Lebens würde es diese Musik nicht geben.
Read more..
Contact
Booking
Florian Lippmann
PR & Marketing
Louise Lässig