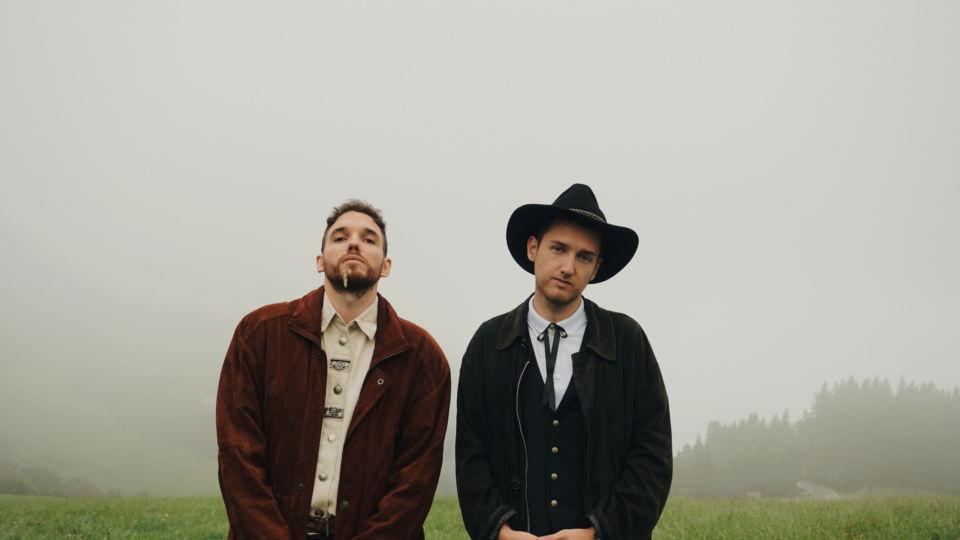 On Tour
AT
Wenn man in der deutschsprachigen Musiklandschaft die Augen und Ohren halbwegs offen hatte, dann gab es in den letzten Jahren an Yukno kein Vorbeikommen. Popmusik mit Texten, eingängig genug, um tagelang in den Gehörgängen herumzugeistern und doch so verwinkelt und aufrührend, um es sich nie in den gefälligen Ecken gemütlich zu machen. So zeichnet Yukno mit ihrer Musik einen Gegenentwurf zur Pop-Routine. Auf das im Frühjahr 2018 erschienene Debut-Album "Ich kenne kein Weekend" folgten Headliner-Shows und zahlreiche Festivalauftritte. Nach zwei weiteren Singles im Sommer 2019 melden sich Yukno zum Ausklang des Jahres mit ihrem Austro-Rave-Brett "Heim" zurück. Im Frühjahr 2020 werden in vier ausgewählten Städten die LAND OF CONFUS1ON SHOWS ausgerufen.
Nach der Veröffentlichung des ersten Albums zog der eine Bruder aus dem heimatlichen Talkessel fort nach Wien, der andere nach Graz. Im digitalen Austausch haben sie an neuem Material geschrieben. Weil es aber am Schönsten ist, gemeinsam Musik zu machen, gehen sie im Frühjahr 2019 zusammen weit weg. Nach Sansibar, um wieder vereint und mit Musikern vor Ort gemeinsam an anderen Sounds zu experimentieren. Dort, wo sich das Gefühl der eigenen Heimat verliert und sich erlernte Perspektiven relativieren, sind die neuen Songs von Yukno entstanden. 
Die erste Single "Eine Sekte" spielt mit dem verlockenden wie illusorischen Gedanken einer Utopie, bis uns die zweite Single "Die Wahrheit (liebt die Fantasie)" wieder in die Realität des Informationszeitalter mit all seinen dystopischen Anleihen zurückholt. Weiterhin schlägt Yukno die Brücke zwischen pulsierendem Großstadtsound und ländlich-steirischem Seelenleben. Dabei findet sich die strenge elektronische Taktung des ersten Albums nun stärker durchbrochen von neuen rhythmischen Einschlägen und einem erfrischenden Drang zur Melodie. Man darf gespannt sein, was uns in den nächsten Monaten alles erwartet. Bis dahin laden Yukno bei den LAND OF CONFUS1ON SHOWS herzlich dazu ein, allem, was noch kommt, entgegenzutanzen.
Mehr lesen..
Kontakt
Booking
PR & Marketing
Louise Lässig