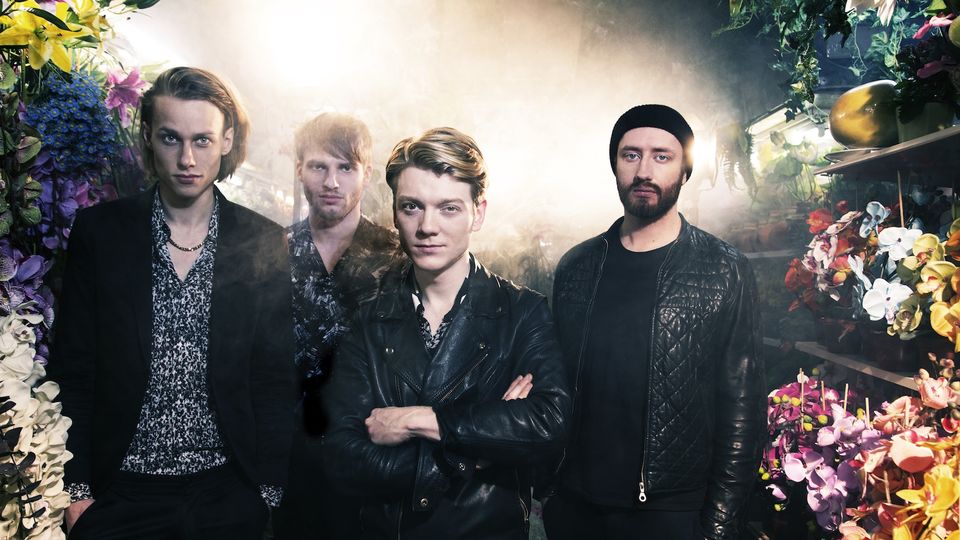 DE
Alles oder nichts, jetzt oder nie: Befreit aufspielender, mitreißender, euphemistischer Rock'n'Roll ist Ausgangspunkt und musikalische Umgangssprache bei TRÜMMER. Man spürt das Brennen, den Aufbruch und die Haltung. Immer wiedererkennbar durch die Stimme von Frontmann Paul Pötsch, der die direkten und aufbegehrenden Texte klingen lässt, als wären es letzte Wahrheiten. Seit der Gründung 2012 verbreitet sich ihr Name von Mund zu Mund, von Konzert zu Konzert – wie ein Lauffeuer – es folgen Auftritte auf den wichtigen Festivals wie Melt!, Dockville, Haldern Pop und Deichbrand, Supports für nationale und internationale Größen wie Dinosaur Jr., Casper, The 1975 und die erste Headlinertour durch Deutschland. Wer die Hamburger Band live gesehen hat, weiß, dass hier elektrisch verstärkte, von Punk grundierte Musik aus genau diesem einen Wunsch heraus gespielt wird – um mit dem Publikum eine Euphorie des Augenblicks zu teilen. Eine Euphorie, der man unmittelbar anmerkt, dass sich die mittlerweile zum Quartett gewachsene Band als Gegenbewegung zur allgemeinen musikalischen Gleichschaltung versteht, die dieses Land, und mit Sicherheit den deutschsprachigen Rock'n'Roll in den letzten Jahren erfasst und eingelullt hat.
An der Sprache sollt ihr einander erkennen. In Trümmers Falle bedeutet dies: "In all diesen Nächten / Sind wir nicht brav, sondern schlimmer / Und wir werden niemals alt / Nein, wir bleiben so für immer, für immer." (aus: "In all diesen Nächten") Man merkt es beim ersten Zuhören und es vertieft sich bei jedem Nachlesen: Hier hat eine Band ihre eigene Sprache bereits gefunden, noch bevor er sie angefangen hat zu suchen. "If you want to fuck the system / You have to fuck yourself." (aus: "Die 1000. Kippe") Das ist das goldene Selbstverständnis der Jugend, dass sie endlos sei.
Ihr Debütalbum "Trümmer" erschien am 22. August 2014 bei PIAS Germany und wurde von den Medien begeistert aufgenommen, es folgten ausverkaufte Konzerte, zahllose Interviews und Musikpreise en masse. Gerade waren TRÜMMER mal eben mit ihrem ersten Album für den ECHO Kritikerpreis nominiert. Doch das alles interessiert die Band kaum, am liebsten sind sie einfach auf der Bühne. Und genau dort, auf den Bühnen des Festivalsommers 2015, geht es jetzt für die Band weiter. Immer auf der Suche nach der Euphorie!
Mehr lesen..
Termine
Keine aktuellen Termine.
Kontakt
Tonio Amin Zaoui