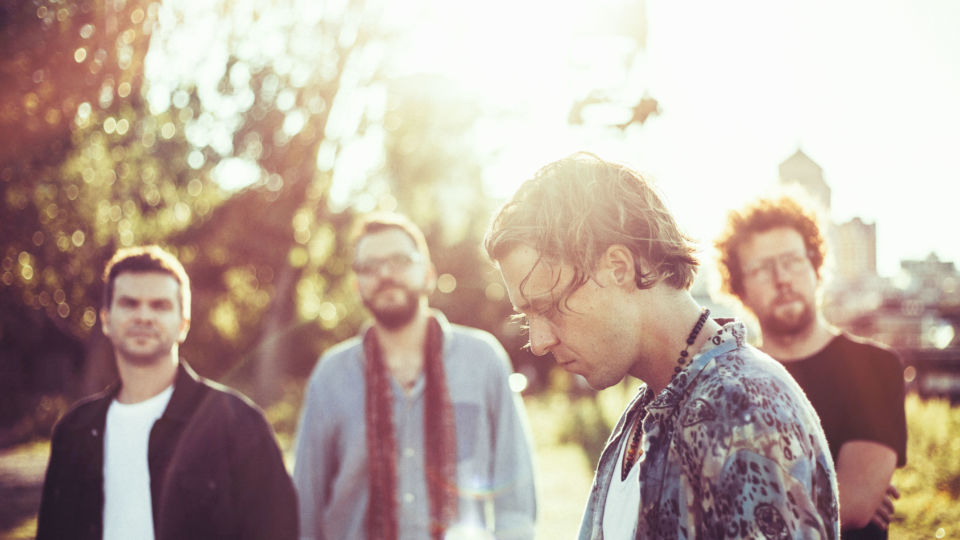 CA
Ein blauer Blitz am nächtlichen Himmel –Elektrizität –das Leben. Ein Funke, der das Gehirn befeuert, das Herz, die Fantasie. Der Funke, der auch The Franklin Electric inspiriert. Nach "This Is How I Let You Down", für die Band der Durchbruch, kehrt die Band aus Montreal mit ihrem lang erwarteten zweiten Album "Blue Ceilings" zurück, um die Welt zu erhellen. Seit 2012 gibt es die Band unter dem Namen The Franklin Electric. Sie besteht aktuell aus Kevin Warren(Schlagzeug), Martin Desrosby(Bass),Ken Pressé(Gitarre) und Jon Matte, Gründer und Kopf der Band (Gesang, Piano und Trompete).
Wie alles anfing.... Jon Matte wuchs in einem Elternhaus auf, wo Musik eine große Rolle spielte, Musiker ein und aus gingen und im Zentrum des Hauses das Klavier der Mutter stand. Er erinnert sich: "Ich wuchs in einer irisch-katholischen Familie auf, jeden Sonntag ging es in die Kirche. Meine Mutter war Chorleiterin, also sangen wir Kirchenlieder, irische Folksongs, all diese schönen Lieder mit vierfachen Harmonien und akustischen Gitarren und Fiddel." Matte beschäftigte sich in den folgenden Jahren darüber hinaus mit Jazz und so ziemlich allem zwischen Hip Hop bis Elton John und den anderen Songwriting-Größen der 70er Jahre. Das legendäre Verve Label beauftragte ihn eines Tages mit dem Remix eines Nina Simone Albums. Das gab ihm die Gelegenheit, mit Sound-Ingenieuren zu arbeiten und von ihnen zu lernen. So wuchs der Wunsch, selbst Musik zu machen. 

Eine Band nahm Gestalt an: Auftritt Martin Desrosby, Kevin Warren, Ken Pressé und einige andere Musiker, mit denen eine Einheit, ein Sound gefunden werden sollte.Die erste Single "This Is How I Let You Down" war der erste Release, zunächst unabhängig, dann 2014 noch einmal über das Label Indica Records. Der Erfolg ließ nicht lange auf sich warten und in kürzester Zeit zählte man eine Viertel Million YouTube Hits und die Band betrat die Bühne der alternativen Folk Szene. The Franklin Electric wickelte mit einem einzigen Song ganz Kanada um den Finger, als sie mit Old Piano bei einen Songwriting Wettbewerb in Nashville antraten und 8000 andere Bands übertrumpfte und Erste wurde. In der Folge erhielt sie Angebote, als Support für namhafte Künstler anzutreten: Ben Howard, Mumford andSons, Edward Sharpe and the Magnetic Zeroes, City & Colour, Half Moon Run. 2015 spielten die vier über 180 Konzerte von Kanada bis Australien, darunter allein drei Touren in Europa –überwältigende Kritiken folgten auf dem Fuß. Sowohl Kritiker als auch Fans reagierten vor allem auf die außergewöhnliche Stimme von Jon Matte und auf sein intuitives und fesselndes Songwriting. Ungewöhnlich auch der Gesamtsound der Band – mit einer Trompete, nicht gerade gängig im Pop. "Die Trompete ist meine Geheimwaffe", sagt Matt. "Die kann ich immer auspacken und die Leute sagen'What the fuck'? Für mich ist es ein hymnisches Instrument."
Mit dem neuen Album "Blue Ceilings" bewegen sich The Franklin Electric auf das nächste Level: Musik, die bezaubert, und ein reifer, ein ausgereifter Sound. Beginnen wir mit "I Know the Feeling"–graziös, dramatisch, dunkel am Rand, die Stimmung vor dem Morgengrauen. "Ich mag den Song sehr," sagt Matte, "weil er sich anfühlt, als ob ich mich mit jedem Menschen verbinden kann." Human music for an Autotuned world. "In Walk With You" hat Jon Matte tatsächlich ein Gespräch verarbeitet, das er mit einer Freundin hatte –es sind echte Zitate. "Diese Zeilen sind sehr persönlich und es ist eine Art Heartbreak Song entstanden." Als Zuhörer oder Zuhörerin ist es einem vielleicht mal ähnlich gegangen. So entsteht ein Dialog nicht nur zwischen den Musikern, sondern zwischen auch zwischen Band und Publikum. Der menschliche Faktor, der Funke der überspringt... "Das ist es, was uns Künstler antreibt, überhaupt Musik zu machen," sagt Matt. "Man stürzt sich obsessiv auf sein Thema, vergisst zu essen, bis alles richtig klingt und richtig ausgedrückt ist. Dieser Antrieb ist bei uns größer denn je."
Mehr lesen..
Kontakt
Booking
Philipp Jacob-Pahl
Tim Neumann
PR & Marketing
Louise Lässig