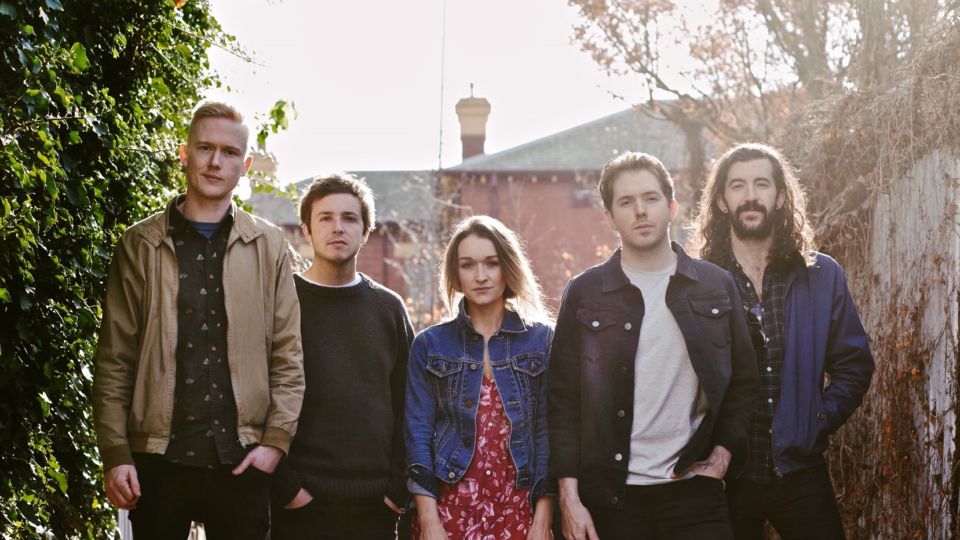 AU
Morgendämmernde Texte und üppige, spätnächtliche Melodien: twelvefour ist das traumhafte zweite Album des australischen Quintetts THE PAPER KITES. Vier Jahre sind vergangen, seit die Band gegründet wurde und mit ihrer EP "Woodland" begeisterte – seitdem steigerte sie sich zu einem der beliebtesten Liveacts Australiens, besonders mit der Veröffentlichung ihrer LP States(2013). Das Album war der Quell für Publikumslieblinge wie "St Clarity", "A Lesson From Mr Gray" und "Young", und erreichte Platz 17 der offiziellen australischen Albumcharts (ARIA).
Nun ist die Band aus Melbourne – bestehend aus Sam Bentley, Christina Lacy, David Powys, Josh Bentley und Sam Rasmussen – zurück, zusammen mit einem mühelosen, weitläufigen Album, das neues Terrain erforscht und ihre beste Arbeit bisher hervorbringt.

"Die Platte ist ein echtes Konzeptalbum, basierend auf der Theorie, dass das kreative Hoch eines Künstlers in den Stunden zwischen Mitternacht und vier Uhr morgens liegt", erklärt Frontmann Sam Bentley, der nach einem Motiv gesucht hat, um das zweite Album zu formen. Eine Randbemerkung eines Freundes im August 2014 gab den entscheidenden Anstoß. "Die Idee wurde zum Herzen des Projekts, also habe ich mich jede Nacht hingesetzt, wenn die Uhr Mitternacht schlug, und angefangen zu schreiben."
Entschlossen, einen größeren und kühneren Sound zu erreichen, reiste die Gruppe im Februar 2015 nach Seattle, um mit dem Grammy-nominierten Produzenten Phil Ek (Father John Misty, Manchester Orchestra, Fleet Foxes, The Shins) aufzunehmen. Dementsprechend ist twelvefour üppig und intim: Denk dabei an satte Drum Machines, dreckigere Gitarren ("mit einem deutliche 80iger Einschlag", beharrt Sam) gemischt mit gefühlvollen, geschmeidigen Synthie-Momenten – zum Beispiel im letzten Song "Too Late". Spätnächtliche Vibes im Überfluss.
Es war eine wahre Freude, die Platte im Nordwesten der USA aufzunehmen. Die Band hat für sechs Wochen ihr Lager in Seattles hippen Vorort Ballard aufgeschlagen, während dieser Zeit ermunterte Ek sie dazu, über sich hinauszuwachsen. "Phil ist jemand, mit dem wir schon immer zusammenarbeiten wollten, aber ich wusste, dass er viele Bands ablehnt", sagt Sam. "Wir dachten, es würde sich gar nicht erst lohnen, zu fragen."

Als die Band im April wieder nach Hause fuhr war das Album endlich fertig. Fans können sich auf eine besondere Dokumentation über die Produktion von twelvefour freuen – Filmemacher Matthew Cox hat den gesamten Aufnahmeprozess in all seiner Pracht und mit all seinen Makeln eingefangen: "es war nicht alles nur eitel Sonnenschein".

Das daraus resultierende Album ist ein verblüffendes Zeugnis einer Band, die wirklich in sich selbst gewachsen ist: Trittsicher und fokussiert. "Wie immer hoffe ich, dass die Leute, die unsere Musik hören, mit uns weitergehen mögen. Wir freuen uns wirklich darauf, die Songs mit auf Tour zu nehmen, und alle auf den neuesten Stand zu bringen."
Mehr lesen..
Termine
Keine aktuellen Termine.
Kontakt
Booking
Carlo Luis Ruben Schenk
PR & Marketing
Louise Lässig