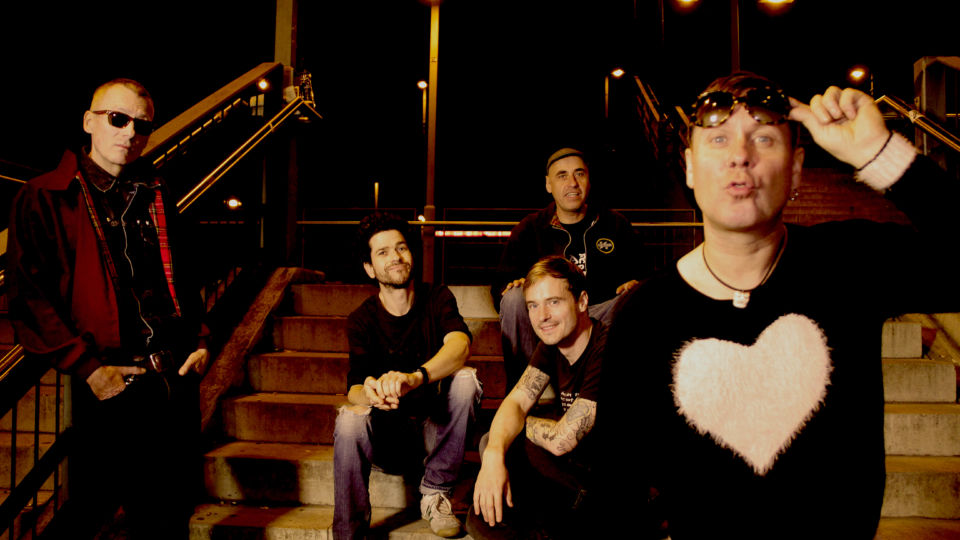 On Tour
DE
Februar 1993 : Drei Kreuzberger Punker treffen sich nach langer Zeit zufällig im Pfandleihhaus Wienerstrasse wieder, sie wollten eigentlich ihre Instrumente verpfänden... Stattdessen feiern Archi "MC"Motherfucker (voc,git), Johnny Bottrop (git) und Hermann v.Hinten (drums) ihr überraschendes Wiedersehen und beschliessen die Gründung einer Band. Bald wird mit Ice Tüte auch der fehlende Bassist gefunden.
Weil man keinen gewalttätigen, aggressiven oder in irgendeiner Form provozierenden Bandnamen wählen möchte, einigen sich die Vier auf die neutrale und familiengerechte Bezeichnung "TERRORGRUPPE". Schnell erspielt sich die Band eine gewisse Berühmtheit in Berlin und Umland und veröffentlicht einige selbstproduzierte EPs, die im Eigenvertrieb knapp 10.000 mal unter die Punkrock-affinen Bevölkerungsteile gestreut werden.
Ice Tüte wird irgendwann 1994 durch Zip Schlitzer am Bass ersetzt und bald tourt die Band regelmässig durch Deutschland, Österreich und Schweiz... im Dezember 94 unterschreiben sie einen Plattenvertrag bei dem kleinen aber feinen Berliner Label GRINGO RECORDS.
Während die frühen Recordings noch an klassisch strictly Punkrock zwischen California Skatepunk, London 77 und frühen deutschen Bands wie KFC, Buttocks oder Middle Class Fantasies erinnern, kommen später immer mehr Reggae-, Ska- und Powerpop-Einflüsse dazu, auf "Keiner Hilft Euch" sind sogar Jazz-Instrumentierungen hören. Die Gruppe nennt diesen Stil "Aggropop" mit dem bandeigenen Fanzine "Church of Punkology" als Zentralorgan des Sounds.
Mindestens genauso wichtig wie Musik und Style sind aber die Texte der TERRORGRUPPE: Unbekümmert und bewußt naiv werden alle wichtigen Bereiche von Politik, Sex, Religion, Drogengebrauch, Beziehungsstress, Lohnarbeit und "Deutschland als Solchem" einer fundierten Analyse unterzogen: Amüsiert legt Sänger MC Motherfucker die Finger in die Wunden eines kranken Landes - ironisch, sarkastisch, manchmal aber auch mit praktischen Anleitungen zur Rebellion: "Wir wollen alle Halbwüchsigen gegen Eltern, Staat, Kirche und Gesellschaft aufhetzen" bekennen die Berliner Kinderverführer freimütig. Trotzdem ist die TERRORGRUPPE keine "Politpunk"- Band, sie bezeichnet sich als "10% politisch korrekt" bei 90% Inkompetenz.  Gerne werden Stars aus Politik- und Showgeschäft "in menschenverachtender Weise" in Spottversen diffamiert, Schadenfreude ist ein wichtiger Antrieb der Band.
Natürlich bringt eine solche Haltung nicht nur Freunde ein, Boykott durch süddeutsche Handelsketten, Klagen von Ämtern, Firmen oder B-Promis, Beobachtung durch Staatsschützer, Turnee-Begleitservice durch Polizei-Hundertschaften und radikale Feministen, und Anzeigen durch christliche Moraltheologen ...
Im Sommer 1998 steigt Drummer Hermann v.Hinten aus, dafür kommt kurz darauf Maschine West. 2001 verlässt dann Bassist Zip Schlitzer nach 7 Jahren die Band und wird durch Slash Vicious ersetzt. Und November 2004 verlautbart die Band völlig überraschend: Terrorgruppe will nicht mehr touren! Die "Rohe Weihnachten-Tour 2004" soll die letzte Tour ihrer Laufbahn werden. Die Mitglieder sind tourmüde - weniger von den vielen Konzerten, sondern mehr von dem ständigen Tohuwabu drumherum. Man wolle sich in Zukunft lieber wieder ganz auf "Kunst und Kreativität" konzentrieren...
Bis Oktober 2005 wird dann noch an einem englischsprachigen Album gebastelt, aber schon im Monat November erklärt Sänger Archi MC Motherfucker seinen Austritt., er wird in Zukunft nur noch Platten produzieren... von Bands wie Creetins, Movement, Scheisse Minnelli, die Konzert-Dokumentation "Appetite for Deconstruction" , später die Berliner Hip Hopper K.I.Z. und das Trash-Kollektiv The Tote Crackhuren im Kofferraum. Die restlichen 3 Members, verstärkt um Sänger Bang Bang Benno nennen sich jetzt "The Bottrops",  der Sound geht in eine etwas andere, garagigere  Richtung. 
Anfang 2013 erscheint (mit sieben Jahren Verspätung) die TERRORGRUPPE-Dokumentation "Sündige Säuglinge hinter Klostermauern..."  -  ein Film über die komplette Bandgeschichte, das Testament der Terrorgruppe. 
Völlig überraschend kündigt die Band dann am 1. Dezember 2013 ihr Comeback mit einem Auftritt auf dem Ruhrpott Rodeo Festival an - in fast der gleichen Besetzung wie zur Zeit der ersten beiden LPs. Weitere Konzerte werden in den Wochen danach bestätigt, die beiden Ur-Mitglieder MC Motherfucker und Johnny Bottrop geben in zahlreichen Interviews zu Protokoll, dass die Band jetzt wieder richtig existiert und nicht nur für ein paar wenige Konzerte.
Kein Zweifel, die TERRORGRUPPE, die Speerspitze des mitteleuropäischen Kulturterrorismus und eine der einflussreichsten deutschsprachigen Punk-Bands der Neunziger und Zweitausender ist wieder zurück, verstärkt mit den beiden Neuzugängen Kid Katze (drums) und Eros Razorblade (multi-instrum.)
Im Januar 2016 erscheint dann das erste Album nach 10 Jahren Pause - "Tiergarten" - mal wütend, mal überdreht und leichtfüßig, oft eingängig und immer angriffslustig: 2-Akkorde Protopunk, Wave, Powerpop, eingängige Punkrock-Hooks, Unterhaltung mit Charme trifft auf Frontalangriff, Tiefgang und Tiefschlag. Motto: "Erst schießen, dann fragen!".  Live bietet die Band einen bunten Mix aus alten Songs und der "Tiergarten"-LP, eine Setlist von 1993 - 2016 im Spannungsfeld zwischen Punk, Trash, Politik, Pop, Subversion und pietätlosem Entertainment.
Mehr lesen..
Kontakt
Booking
Steven Glor
PR & Marketing
Jennifer Ohanka