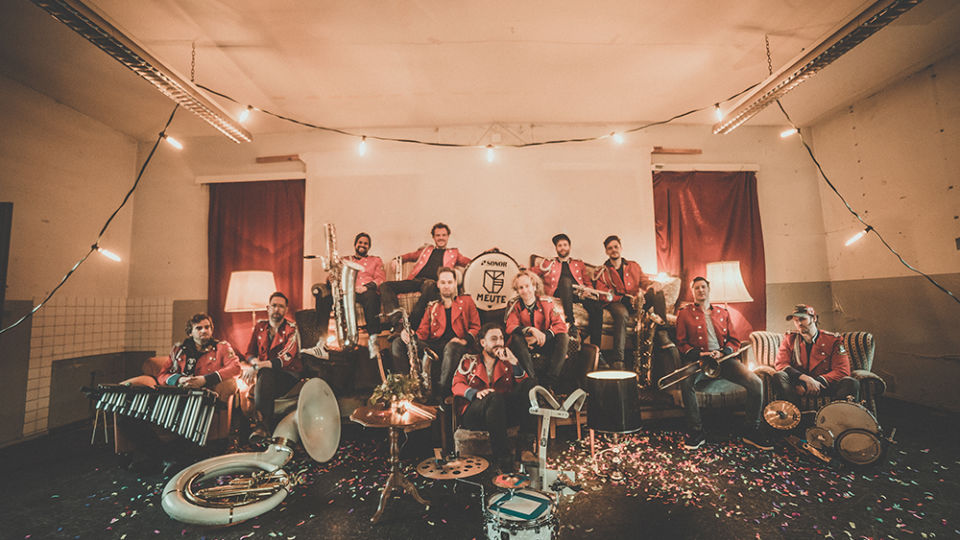 On Tour
DE
Durch die Kombination aus hypnotisch treibendem Techno und expressiver Blasmusik beschwört das archaische Konglomerat aus Blech, Schweiß und Trommeln ein neues Genre herauf. 
MEUTE löst die elektronische Musik vom DJ-Pult und entfaltet einen erdigen Energieschub auf der Bühne oder direkt in der Menschenmasse. Stadt,
Land, Club. Mit Strom oder ohne – MEUTE läuft. Innerhalb der ersten Tage nach Erscheinen wurde das Debüt mit der Cover Version des Tracks REJ des Berliner Duos Âme auf Facebook über 10.000 mal geteilt und mehr als 500.000 mal angesehen.

Âme: "So who says germans don't have the funk???"
Dixon: "Best Remix yet!"
Resident Advisor: "Watch this!"
Schlecky Silberstein: "Wie obergeil ist das denn bitte."
BBC Radio 1 Essential Mix: "Amazing."
Thump: "Diese Blaskapelle hat Âmes REJ gecovert und es klingt besser als das Original."
Radio Fritz Berlin: "Fetzt!"
Mehr lesen..
Kontakt
Booking
Florian Lippmann
PR & Marketing
Louise Lässig