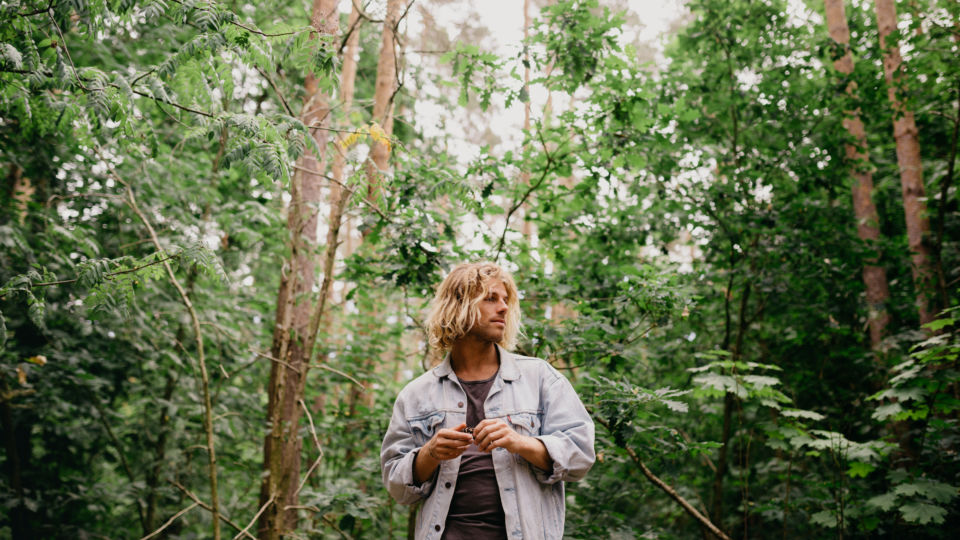 On Tour
AU
Nach arbeitsintensiven 18 Monaten an dem Nachfolger zu seinem 2014 erschienenen Album "Silence/Win" fühlte sich das fertige neue Album - so glattpoliert und eingängig - nicht richtig für Churchill an. In letzter Minute entschied er sich alles hinzuwerfen und neu zu beginnen.
Jedoch die, die mit Kim Churchills Radiohit "Window to the Sky" (https://www.youtube.com/watch?v=lD2VAo5_H0k) vertraut sind, werden bekannte Elemente in den neuen Stücken Churchills finden. So vermischen sich weiterhin verschwurbelte Gitarren-Riffs mit intuitiv eingängigen Gesangsmelodien und einem wundervollen Gefühl von Wärme und Räumlichkeit.

Seine neuste Single Second Hand Car ist dank der, an frühere Zeiten erinnernden Keys, der treibenden Gitarre und dem bewegenden, zum Mitsingen auffordernden Refrain, als ein typischer Song von Kim Churchill zu erkennen.
Was Weight_Falls von Churchills vorherigen Werken abhebt ist vor Allem seine Abenteuerlust und Unberechenbarkeit, die unter anderem durch druckvolle Drum-Samples, unübliche Harmonien und Momente voller entwaffnender lyrischer Ehrlichkeit besticht.
Es brauchte zwei Jahre, bis Churchill, angetrieben durch seine Erfahrungen in dieser Zeit, diese Wende in seinem Sound verinnerlichte. Nach der Australien-Tour zu Silence/Win 2014/2015 begab sich der Songwriter auf höchst adrenalingeladene Reisen fern von Australien, welche beispielsweise Auftritte auf dem Glastonbury und dem Telluride Blues Festival beinhalteten. Zusätzlich spielten seine abenteuerlichen Trips in den Peruanischen Anden und entlang der Küste Sri Lankas eine wichtige Rolle in seiner Selbstfindung.


"Ich arbeitete über lange Zeit wirklich hart an dem Nachfolgealbum", erklärt er – "und es klang gut. Aber etwas in mir sagte mir, dass es doch nicht ganz so inspirierend sei wie es hätte sein können."
Also schnappte sich Churchill seine Gitarre und schrieb innerhalb von nur einer Woche eine zweite Version des Albums. Die nächsten zwei Monate verbrachte er mit dem ARIA-Preisträger Ian Pritchett, mit dem er, in einer Garage in Sydney, die neuen Aufnahmen zu einem organischen Ganzen zusammensetzte. 
Weight_Falls ist eine kaleidoskopische Zusammenstellung von Stücken geworden, die sowohl Fans, als auch Kritiker überraschen wird.  

Mehr lesen..
Kontakt
Booking
Florian Lippmann
PR & Marketing
Louise Lässig