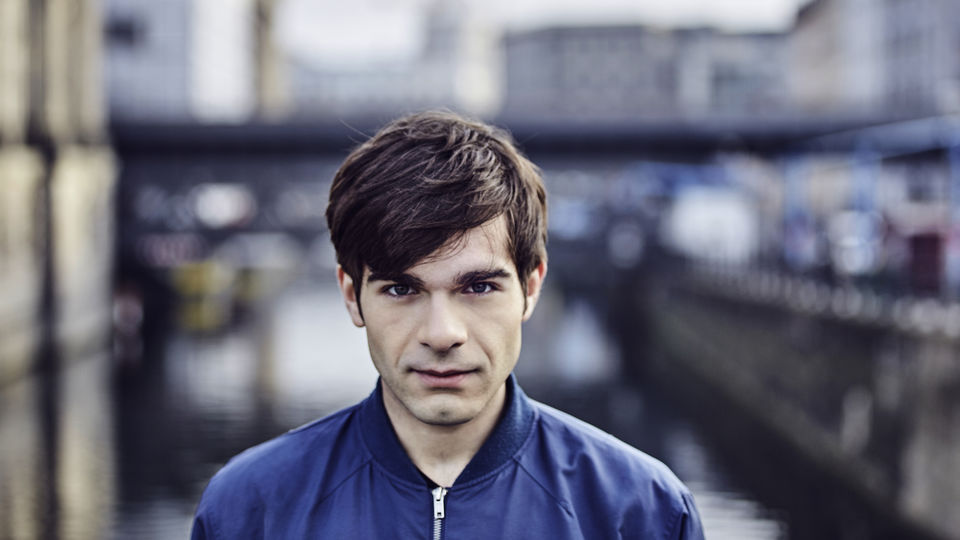 DE
Die Zeichen stehen auf Aufbruch im Studio von Elias Hadjeus. Gemeinsam mit Gitarrist Max van Dusen und Produzent Benjamin "Benni" Bistram hat der Berliner Singer-Songwriter ein einhundert Jahre altes Klavier aus Wurzelholz angeschafft, das auf einer Online-Plattform - umständehalber - abzugeben war. Das Vintage-Teil hat einen Ehrenplatz zwischen Keyboards und Gitarren bekommen. Es passt bestens in die musikalische Grundausrichtung, in der analoge und digitale Töne filigran miteinander verknüpft werden. Elias und Bistram (Prinz Pi, Casper, Glasperlenspiel) haben sich auch vom Equipment her fit gemacht für künftige Projekte.
Neue Songs für das Album "Wir brauchen Nichts". Kompositionen wie der Opener "Vorglühen", "Das berühmte Lied mit der Katze" oder das melancholisch-entspannte "Auf der Allee" sind im Charlottenburger Hauptquartier entstanden. Gitarrist und Songwriter Max van Dusen ist mit dabei im Kernteam, das Lieder mit fein gesetzten Texten, kleinen Beobachtungen und großen Gefühlen einspielte. Ein Spannungsboden bis hin zum fulminanten Schlüsselsong "Feuerwerk (feat. Prinz Pi)". "Anfangs bin ich für diese Aufnahmen wie ein krasses Groupie angetreten. Doch es lief in der Praxis ganz locker, und letztlich wurde eine tolle Zusammenarbeit daraus", erzählt Elias, der bereits als 16jähriger Zeilen wie "Und hätt´ Musik keine Seele, bräucht der Mensch keine Ohren" schrieb. In seiner Schulzeit waren Lou Reed oder die Red Hot Chilly Peppers erste internationale Helden, die deutsche Popmusik erschloss er sich mit Madsen und auch Wir sind Helden.
Ein klassischer Frühstarter also, der gemeinsam mit befreundeten Musikerkumpels aus ganz unterschiedlichen Vorstadtbands rund um den Müggelsee, im Jahre 2012 Elias and the Animals Orchestra ins Leben gerufen hatte. "Aus einer ziemlich irren Mixtur aus Punk, HipHop und Psychedelic Country ist damals etwas sehr eigenes, frei-chaotisches entstanden", erinnert er sich. Eine Köpenicker Supergroup mit mannigfaltigen Einflüssen!
Damals war das "Haus der Jugend" im Stadtbezirk Köpenick eine Art kreativer Mittelpunkt für die jungen Musiker. "Dort aufzuwachsen ist schon etwas besonderes innerhalb der Stadtgeografie von Berlin. Das wirkt sich etwa so aus: Köpenick ist weit genug entfernt vom Remmi-Demmi der Stadtteile mit den Clubs und Bars. Aber dann doch mit S-Bahn oder Nachtbus nah genug, um sich jederzeit ins Party-Getümmel stürzen zu können", erinnert sich der heute 23-jährige Elias Hadjeus an eine Musikerjugend zwischen Fokus - und einem sich Verlieren im Nachtleben der Hauptstadt.
Gut drei Dutzend Tracks und Skizzen sind bei den Studiosessions entstanden, von denen sich elf final ausgearbeitete Songs auf dem Elias Debutalbum "Wir brauchen Nichts" wiederfinden. In seinen Texten geht es um die Geheimnisse des Alltags; um Frauen, Freundschaften, das Älterwerden an sich und natürlich auch um die Liebe - und ihre Vergänglichkeit. Elias unterschrieb bereits nach der Schule einen Vertrag bei einem Musikverlag - eine Anerkennung für seine Fähigkeiten als Songschreiber. Elias schätzte sich damals einfach nur glücklich; dass er "schon so früh im Leben machte konnte, was ich immer machen wollte", Im Studium der Literatur hat er seine zweite Leidenschaft gefunden. Für die kommende Tournee von "Wir brauchen Nichts" plant er einige Texte auf besonders gestalteten Postkarten unters Volk zu bringen. "Wir verteilen Lyrik-Flyer im Punklook ans Publikum", sagt Elias und muss ein wenig grinsen. "Mini-Dramen mit der zerschossenen Typografie von Reclam-Heften. Literatur-Pop im Hertha-Müller-Style!"
Auch das Leben on the road hat Elias schon ausgiebig mitbekommen, als er mit Künstlern wie Tom Hessler, Timid Tiger oder Lukas Graham in Clubs in ganz Deutschland unterwegs war. Bei Convention-Festivals wie der c/o pop in Köln 2015 konnte er das (noch unfertige) neue Songmaterial bereits live antesten. Sein Publikum ist dabei nicht auf die eigene Generation beschränkt: "Grob geschätzt von 17 bis 47", sagt er.
Nach den EPs "Kaputt" und "Modellwelt" nun also "Wir brauchen Nichts": 2016er-Popmusik aus dem Hier und Jetzt, die etwas anders buchstabiert wird: Klassische Songstrukturen und Gitarrenriffs, dazu eigenwillige Lyrics, die sich um komplexe Drum Breaks winden. "Meine Generation", sagt Elias, "steht halt vor der krassen Situation, dass über zig digitale Kanäle alles gleichzeitig verfügbar ist. Alles scheint unendlich unübersichtlich. Damit setze ich mich auseinander: Es geht darum sich einigermaßen zu orientieren – und am Ende auch sich auf irgendetwas festzulegen." Elias, der "vor der schlafenden Stadt, die einsamen Hunde bellen" hört, setzt damit die lange Linie der deutschsprachigen Songpoeten fort – von Reinhard Mey über Rio Reiser in die "Generation Maybe".
Mehr lesen..
Termine
Keine aktuellen Termine.
Kontakt
Philipp Jacob-Pahl
Maximilian Weißenfels