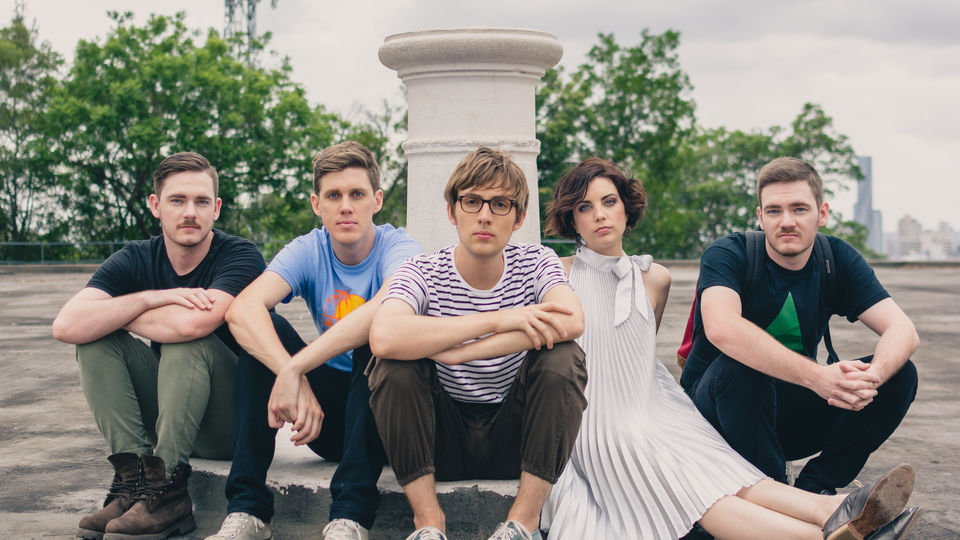 AU
BALL PARK MUSIC, die derzeitig angesagteste Indie-Pop-Band Australiens, erobern nach ihrer Heimat nun auch Europa. Das junge Quintett aus Brisbane kommt Ende Mai für fünf Konzerte nach Deutschland.
Nach zweieinhalb aufregenden Jahren – in denen sie mit ihren Platten "Happiness and Surrounding Suburbs" und dem Top-Ten-Erfolg "Museum" für das australische Album des Jahres nominiert wurden, ausverkaufte Headliner-Touren und eine Australien-Tour mit Weezer spielten, herausragende Shows bei den großen australischen Festivals wie "Splendour in the Grass", "Falls Festival", "Southbound", "Homebake" und "Big Day Out" absolvierten, Konzerte in New York, Großbritannien sowie den Niederlanden gaben und im Radio rauf und runter laufen – sind Ball Park Music bereit für den nächsten Schritt.
Für ihr neues Album mieteten sich Ball Park Music eine schäbige Unterkunft im Norden Brisbanes, kratzten den Schmutz von den Wänden und bauten ihr eigenes Studio. Später haben die Fünf den Grammy-nominierten Produzenten Tony Hoffer für sich gewinnen können, um das Ergebnis ihrer zwölfmonatigen, schweißtreibenden Recording-Sessions zu veredeln. Tony anzuheuern war für die Band nach einem Jahr der Abschottung und selbstzentrierten Arbeit wie eine süße Belohnung – kein Wunder, wenn man Hoffers Renommee und seine weithin geschätzten Produktionen für Beck, The Kooks, M83, Air, Belle and Sebastian und viele andere bedenkt.
Das Resultat kann sich hören und sehen lassen: "Puddinghead" erschien Ende Februar über Embassy of Music. Passend zum Release ihres Albums wurde der Song "She only loves me when I'm there" für die neue Amazon Prime Kampagne ausgewählt.
Mehr lesen..
Termine
Keine aktuellen Termine.
Kontakt
Tonio Amin Zaoui